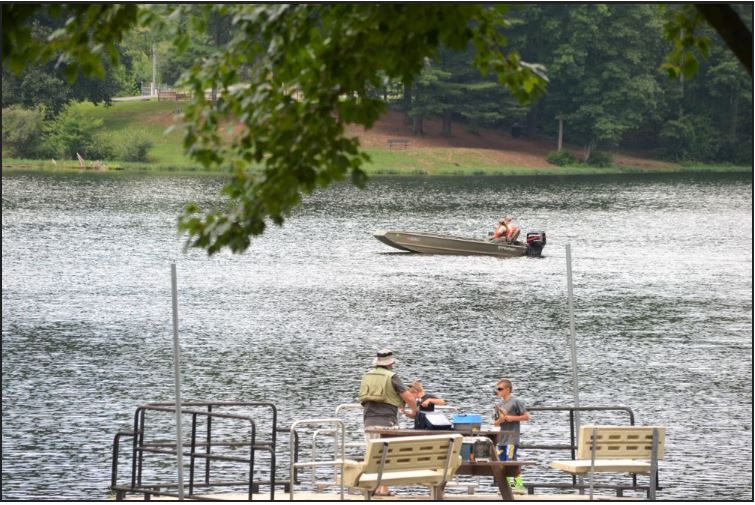 For the second year, Hinkle and Deegan Lakes are being stocked by the West Virginia Department of Natural Resources. Anglers need a state fishing license to fish the local waters, but they are not required – as in years past – to obtain a city fishing permit.
Through DNR management, the lakes are being stocked with trout once a month, January through April. The first stocking took place Jan. 3.
Both lakes receive rainbow trout, golden rainbow trout, brook trout and brown trout throughout the stocking season, according to information supplied by Dustin Smith, assistant district fisheries biologist, DNR, Division 1. On average, Deegan Lake gets over 700 pounds of trout per stocking and Hinkle Lake gets over 250 pounds; the earlier stockings providing primarily rainbow trout. Those numbers, however, can vary due to hatchery production.
Both lakes will be part of the April 4 "Gold Rush" and only rainbow trout will be stocked at the monthly stocking closest to the event date.
"The 'Gold Rush' was developed to provide a unique fishing opportunity to anglers with an interest in golden rainbow trout and often is of particular interest to children and families"  Smith said.
In addition to trout, the DNR stocks one- to two-pound "catchable" size channel catfish at both Hinkle and Deegan Lakes. That stocking generally takes place in late-May or early-June.
"In 2019, Deegan Lake received about 200 pounds of catchable size channel catfish, while Hinkle Lake received about 100 pounds," Smith said.
That stocking is meant to coincide closely with 'Free Fishing Days," in which anglers do not need a license to fish.
"Free fishing days are designed to allow anglers to 'try out' fishing without having to purchase a license," Smith said. "This year, free fishing days are scheduled for June 13 and 14."
Besides the trout and catfish which are stocked by the WVDNR, both Hinkle and Deegan Lakes have reproducing populations of largemouth bass, bluegill and crappie that anglers can target.
"These species are available year-round and can provide excitement for anglers, young and old," Smith said. "Hinkle and Deegan Lakes are an especially good location for children and families to fish, due to the excellent bank fishing access available including easy to access trails. Anglers can easily fish from shore and target the numerous bluegill and bass that populate the lakes."
During the summer of 2019, Smith conducted a depth-mapping exercise at the lakes and subsequently, a map was produced for anglers' use. (Read about it 
HERE
.)
Download a copy of the Deegan Lake depth 
HERE
.
Download a copy of the Hinkle Lake depth map 
HERE
.
Access the interactive fishing tool 
HERE
.