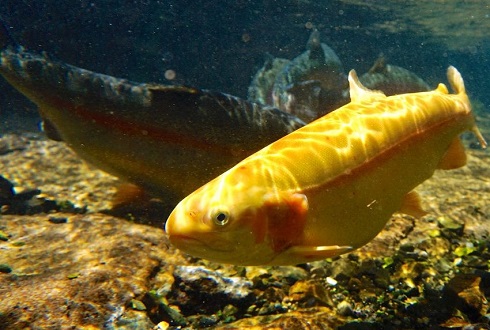 Through Saturday, April 3, The West Virginia Division of Natural Resources (WVDNR) will stock 50,000 golden rainbow trout from at more than 60 lakes and streams, including Bridgeport Hinkle & Deegan Lakes.
Gov. Jim Justice announced this week that the West Virginia Gold Rush trout program is returning this year bigger and better than ever, with 12 days of trout stockings and more opportunities for anglers to win prizes.
"Every year through our incredible Gold Rush program, more and more people are discovering the thrill of fishing in West Virginia's pristine waters, surrounded by the awe-inspiring nature we are blessed to enjoy in one of the most beautiful places on Earth. Many are creating memories and family bonds that will last a lifetime," Gov. Justice said. "With all the excitement surrounding this event, it only made sense to add more days of trout stockings and more great prizes for anglers. As someone who's fished his entire life, I can say that this is one of the most exciting events of its kind anywhere in the nation, and we invite everyone to come and experience the joy of fishing in West Virginia."
Stocking locations and details about Gold Rush can be found at
GoldRushWV.com
. Stockings for the Gold Rush are performed in addition to regularly scheduled trout stockings.