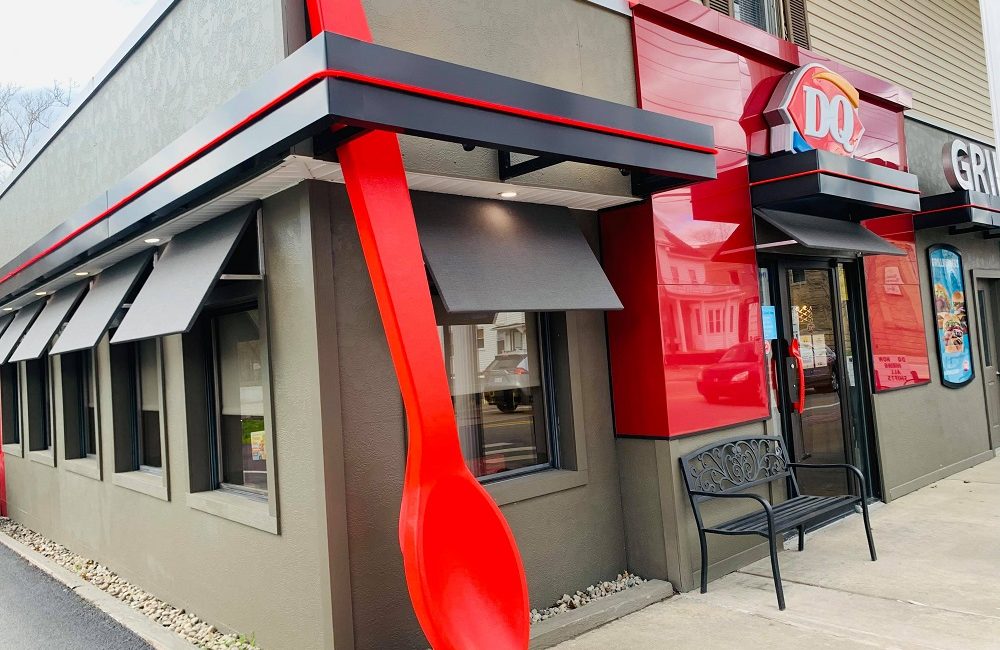 As a little girl, Lindsay LeFevre remembers volunteering to sweep floors at the Clarksburg and Nutter Fort Dairy Queen stores. Her pay was  an Oreo Blizzard and she thinks that was a good deal.
These days, Lindsay and her husband Roger Keith own and operate the Bridgeport Dairy Queen. They purchased it from Ed Helmick in February of 2020.
"My family had nine other stores from Taylor County to Wood County. My mom and dad (Tim and Amy LeFevre), have been in the business for over 30 years, so it's the only job I ever had," Lindsay Keith said. "I was raised in the business. It's all I've ever known, so when Ed approached us, we knew it was a great location and a great building, so we took on our 10th store."
Though their first year of business has been wonderful, Keith said, the summer experience was overshadowed by the COVID pandemic. The new owners look forward to an exciting 2021.
"We have had a lot of support from the community and we are excited for the (city) pool opening this year. We didn't get to experience that last summer," she said.
The owners have renovated and added new features and menu items to serve the public.
Located on West Main Street, just beside Benedum Civic Center, the business has a brand-new storefront and a shiny new interior to match.
"We are the first Dairy Queen in the state with this new 3.0 look," Keith said. "We completely remodeled the dining room – everything from lights to tables and floors. We put in a new front counter and a new expeditor, shelves and walls and we completely redid the kitchen, adding new equipment. We also completely remodeled the outside –
repainted everything, put in new lights and we're waiting on new windows."
The look is highlighted by a giant red Dairy Queen spoon, a recognizable icon and one which is drawing its share of attention.
"People have been taking pictures with it," Keith said.
Customers will be dipping their real spoons into a number of new treats, rolling out April 1.
"We have a bunch of new blizzards – the Summer Blizzard Menu. We'll have Girl Scout Thin Mint, Brownie Batter, Frosted Animal Cookie, Cotton Candy and Raspberry. We have a new cone dip –– Dreamsicle – and three new shakes coming out: Hazelnut Chip, Raspberry Chip and Mint Chip."
As far as the brazier menu, an old favorite – Chicken and Biscuits – is making its return.
The Keiths are also completing a build out of a party room – available for birthdays and other occasions.
"We put in a bunch of TVs and completely redid the interior. We will offer different packages: Kids can decorate their own mini cakes or have a sundae bar."
The young guests can take pictures with a pair of Dairy Queen mascots and on the front sidewalk will be a new digital sign, displaying wishes to the birthday boy or girl.
The party room will accommodate 40-50 people and should be available for use by May 1 at the latest, Keith said. Book by calling 304-842-5906.
Bridgeport also has a Dairy Queen located at Charles Pointe.