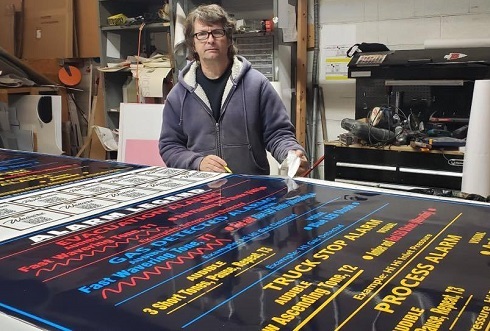 Editor's Note: Would you like to nominate someone  working diligently behind the scenes at a Bridgeport business? Email julie@connect-bridgeport.com. 
Throughout the last quarter of a century, Reep Graphics has designed and printed thousands of T-shirts, hoodies, stickers and other items. The items are proudly worn and displayed to support the Bridgeport Indians and various other athletic teams, organizations and causes.
Most of those designs have something in common. They were created by longtime graphic artist, Sam Jackson, who has marked 25 years with the business.
"If you have lived in North Central West Virginia for any length of time, you have worn a T-shirt he designed," said Reep Graphics owner Billy Reep. "Most of our business is corporate wear stuff. Sam has designed quite a few company logos over the years. He designs a lot of great shirts for church camps, 5K runs, family reunions, four-wheeler & motorcycle dice runs and lots of local schools."
Regardless the job, Jackson's focus is the same. And that's why he is passionate about what he does.
"The most rewarding part of my job is probably helping people bring their ideas to life," he said.
Jackson's interest in art goes back to his youth, having taken four years of art in high school, followed by two years of commercial art at United Technical Center. But young Jackson was working as a stock boy at Phillips Pharmacy in Grafton when he first encountered the Reep family.
"That's where I met Bob Reep, Sr. He was one of the pharmacists there," Jackson said. "He found out I had some talent and asked me if I wanted to help him paint a billboard."
And, of course, Jackson took Reep up on his offer and that led into the longtime professional relationship.
"He began giving me work and teaching me on the side; painting signs and lettering vehicles," Jackson said.
It wasn't until Bob Reep, Sr. bought out Tomes Sporting Goods that Jackson was introduced to and learned silk screening.
The design process has changed a lot over 25 years, Jackson said.
"When I started, everything was done by hand: hand-drawn sketches, hand lettering/layout and painting," he said. "Now it is all computerized."
Jackson has always executed great skill, regardless the method. He's a master of color, able to use half tones to create different shades, creating multiple colors of chosen shades – and the combos of those shades.
"He works his magic and makes it work. He always does," Reep said. "He's been knocking it out of the park for years. He gets a little input from the customer – sometimes just a conservation, but usually a scribbled sketch on a piece of paper – and usually delivers on first or second try. He has a knack for giving people what they want."
Jackson is a great guy, Reep said, and an even better employee.
"Sam is the backbone of Reep Graphics. He has been here longer than I have. I'm not sure how we would function without him," Reep said. "He does pretty much all of the graphics design and sign work. He even does some of the screen printing when we are in a pinch. He would do anything I asked him and not complain at all. I never have to worry about Sam and what he is doing. He is diligent with his work every day, without exception. I can't imagine anyone could have a more loyal, dedicated employee than Sam. He is also a great friend."
Reep is grateful his dad met Jackson all those years ago.
"Sam showed a lot of interest in sign painting and he immediately showed an aptitude for it and my dad took to him immediately," Reep said. "He loved teaching his craft to someone. My dad loved Sam. He is family to the Reeps."
Editor's Note: Photos of Sam Jackson are courtesy of Billy Reep.