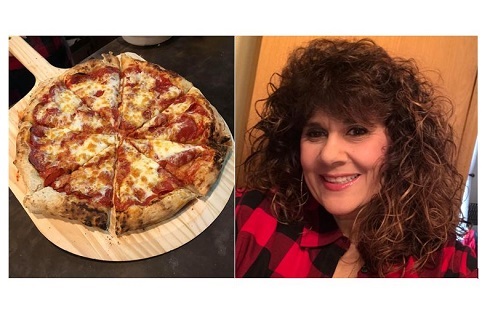 A cutting-edge form of entertainment will be paired with a nostalgic food offering. Hillbilly Hatchets, soon to open on Route 50 East, will feature Tucillo's Pizza, a staple area favorite in the 80's and 90's.
Maria Skidmore, who has a long history with the restaurant, will be preparing the dough and sauce for the pizzas which – for the time being – will include pepperoni, sausage and the "La Hacha" specialty pizza. Spanish for "hatchet," the name pays tribute to the Spanish descent of both Skidmore and Hillbilly Hatchet co-owner Billy Reep. The pizza will feature sausage, roasted red peppers red onion.
It was a conversation between Reep, son Quintin and his friend Corey Skidmore that led to the recently announced food partnership.
"Billy told the boys he'd like to get pizza on the menu and mentioned that the best pizza in the area had been Tucillo's," Skidmore said. "Corey said that was his mom."
Skidmore shared how she became involved with and eventually purchased a Tucillo's Pizza restaurant.
"Back when I was 15, my family bought Tucillo's on Main Street in Bridgeport, so I went to work with them – free labor," Skidmore said. "I made pizza there on and off for probably five or six years, then they moved to where Main Street Station is now and called it Alvaro's Pizza. It was the same recipe. They just changed the name."
She later served as manager for the Tucillo's in Nutter Fort. After graduating college – receiving a degree in nutrition – she served as dietary director at Meadowview Manor. She was still working that job when she eventually purchased the Tucillo's Pizza in Rosebud Plaza in Clarksburg and worked the store, in addition to her work at Meadowbrook Manor.
Once Reep and Skidmore decided to work together, Skidmore retrieved her old pizza recipe.
"I worked on perfecting it and scaling it down – because I'm used to making huge batches," she said. "I went down there one night and made Billy a pizza."
Skidmore said she is once again happy to be back in the restaurant business and she is pleased to re-introduce Tucillo's Pizza to locals.
Reep said the pizza is a perfect fit for Hillbilly Hatchets. Before finding out about Skidmore's background and ability, it had already been decided that pizza was the food item of choice for the new business venture.
"We don't have space for a full kitchen, so we were kind of limited of what we could do for food," Reep said. "We did some research on this small backbar pizza oven – a fantastic piece of technology. It's a ventless pizza oven specifically designed for backbar applications. At 900 degrees, it cooks a pizza in two to three minutes. It makes fantastic pizza like a standard wood-fired oven. It's just great."
So, the discovery that Skidmore could make the classic Tucillo's Pizza was very timely.
"We couldn't be more excited. This whole pizza thing fell into our lap and it's just perfect timing," Reep said. "Maria is great to work with and it will be a great fit for us."
Skidmore has done a couple test runs in the new pizza oven and the results were spot on, Reep said.
"People are raving about the quality of the pizza they used to eat back in the day. The whole nostalgia angle has been crazy. People are really fired up about it," he said.
In addition to pizza, the bar will feature four different beers on tap and an array of bottled/canned varieties, as well as soft drinks and chips. It is possible that additional food items and a full bar will be added at some point.
Located on Route 50 East in the Reep Graphics building, Hillbilly Hatchets will be open to the public beginning Saturday, Feb. 20. Reservations can be made at 
hillbillyhatchets.com
.
In addition to enjoying pizza at the recreation venue, takeout pizza will also be available.
Read the original Hillbilly Hatchets story 
HERE
.
Editor's Note:
Support Maria Skidmore in the Favorite Chef contest by voting daily HERE.