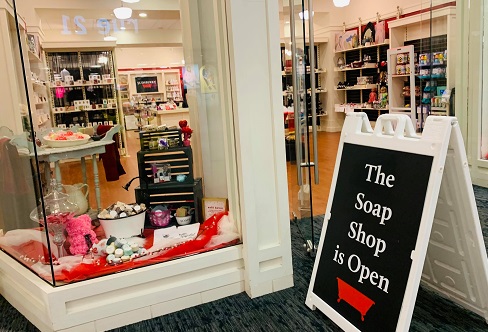 Sudsberry has permanently moved into Meadowbrook Mall after a successful holiday season at its mall-based kiosk. Formerly located on Clarksburg's South 4th Street, the retailer specializes in handmade, all-natural bath and body products.
"When I called the mall's corporate office to close out my kiosk, the gentleman offered me a storefront at a fair price. I was speechless," said Leah Michael, owner.
After ample thought and consideration, she decided Meadowbrook Mall was the ideal place for her business; one which opened just nine years ago in downtown Clarksburg.
"I wanted to see Clarksburg come to life with more shops – and I still do," Michael said. "I've met so many great people that will always have a place in my heart while being at my downtown location."
Michael was inspired to open her business in 2012 after her son was diagnosed with eczema.
"That diagnosis came with a lot of household changes, including the need to look for new products that be safe for his skin," she said. "From there, I found my passion in making all-natural products."
Michael has bachelor's degrees from Fairmont State in Information Systems Management and Business Administration with a concentration in Human Resource Management.
"Once I found my passion, I could not settle for doing anything else," she said. "I found God's calling for my life and I was going to fulfill it."
Sudsberry's best sellers are soaps and bath bombs, but the store also carries deodorant, laundry detergent, perfumes and salves.
"I try to incorporate other local companies into my products by using their products to make mine," Michael said. Best sellers are soaps and bath bombs.
Located between Journeys and Yankee Candle, Sudsberry is open regular mall hours of 10 a.m. through 9 p.m.
Michael said she had great neighbors in downtown Clarksburg, including her own mom's business, Budget Blinds of North Central West Virginia, and Clarksburg Travel Agency.
"They are the ones who encouraged me to open a holiday kiosk at Meadowbrook Mall," she said. "I'm so thankful they did."