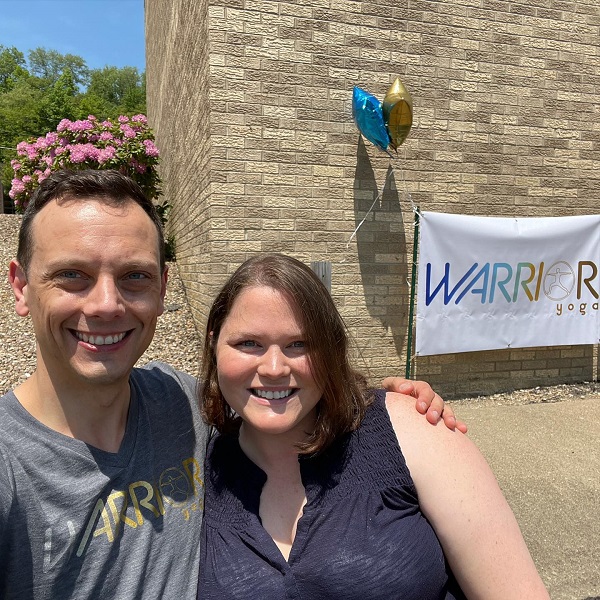 Story by Chris Johnson
Seven years ago, Jill Okes-Kincade introduced the world of yoga to her husband, Orin, and it changed their lives in more ways than one.
A new journey for them officially began on Friday with the ribbon cutting ceremony for Warrior Yoga, located on 2 Chenoweth Drive in Bridgeport. Orin, a Harrison County native, is the owner of the studio as well as the lead instructor.
"It's very exciting," Jill Okes-Kincade said at the ribbon cutting. "It's been two to three years planning, brainstorming. I introduced Orin to yoga about seven years ago. He never knew how wonderful it was for him and he wanted to pursue this."
Orin Okes-Kincade received his 200-hour Yoga Techer certification in March of 2020. Warrior Yoga will offer a broad range of classes for a variety of skill levels including beginner's yoga, hot yoga, yoga for runners and yoga for strength and core.
The effects yoga can have physically are well documented but there is so much more to it than that and the benefits yoga can haven mentally are just as important.
Yoga is also constantly gaining popularity within the male population thanks in large part as more and more athletic individuals have become vocal about how much yoga has helped them.
"I'm hoping that being the lead instructor and being male it will get other males excited about yoga and all the benefits," Orin Okes-Kincade said. "Athletes who are physically strong, they get tight muscles so you have to do something to counteract that and yoga is perfect for that.
"The mental benefits are just as important. I struggle with anxiety, depression. That's what really got me into yoga, to help with some of that as well as a back injury I had at the time.
"Obviously, I want to run a successful business but I do really want to help people who struggle with anxiety and depression."
Warrior Yoga will also offer Koru Mindfulness – an evidence-based, four-session class that can result in less stress, better sleep and less self-judgement when practiced 10 minutes daily. The Koru Mindfulness instructor is Shauna Jones.
Other plans for Warrior Yoga include classes for seniors, specifically chair yoga, and expanded offerings with additional instructors in the future.
For more information about Warrior Yoga, including hours of operation, daily schedule and price packages, visit the website 
HERE
Orin and Jill also plan to be active promoting the happenings of the studio on social media. Follow them on Facebook 
HERE 
 or on Instagram at @Warrior_Yoga_WV
Editor's Note: Top photo is of the ribbon cutting ceremony for Yoga Warrior. Middle/cover photo (courtesy of Yoga Warrior Facebook page is of Orin and Jill. Bottom photo is of Orin and his and Jill's son, Quinn, trying out the yoga mats at the studio.