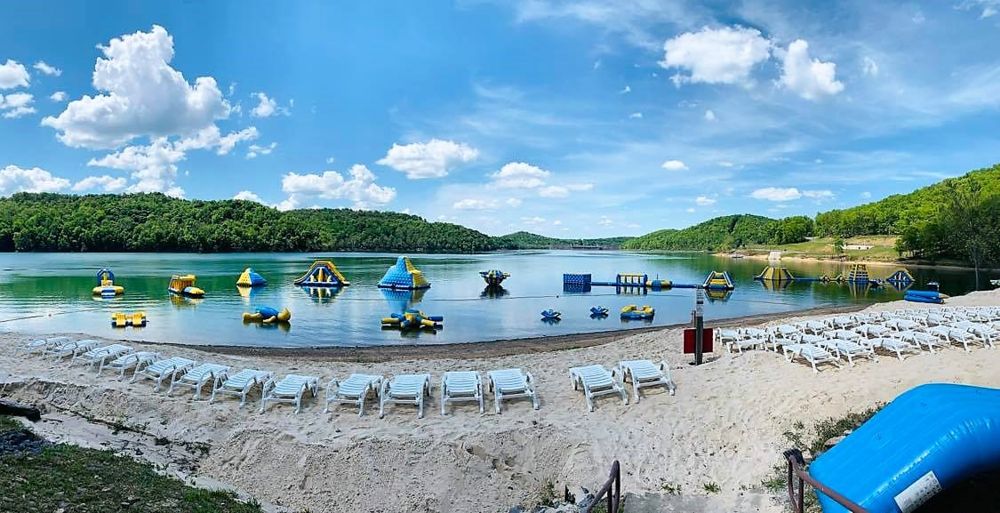 Story by Julie Perine
EDITOR'S NOTE: Lake passes for half- or full-day sessions can be purchased HERE (West Virginia State Parks/Tygart Adventure Lake.)
Under sunny skies and temperatures that made the water very tempting, the ribbon was cut Tuesday on the Tygart Lake State Park water attractions. The lake now features more than two dozen ACE Adventure inflatables which open for action Saturday, May 22.
"We have 26 very large inflatable toys to play on and we brought in 35 truck loads of sand, so we have a new beach," said Paul Beuchler, CEO of State Park Adventures. "We have 200 lounge chairs to relax in, so there's something for everyone – little kids' toys and big toys."
West Virginia Tourism Commissioner Chelsea Ruby said the project has been a collaborative effort between the Department of Highways, State Parks, the Division of Natural Resources, State Tourism and ACE Adventures.
"ACE has been working with State Parks to bring activities to the parks, so these great inflatables are a public/private partnership we've done with ACE," she said. "Tickets are online at wvstateparks.com and they're going quick. You pick a time slot, check out online, print your tickets, then just drive."
Ruby said the new water park is part of the current phase of Governor Jim Justice's overall parks improvement plan.
"We've seen this amazing evolution of tourism in West Virginia," she said. "Four years ago, Gov. Justice said we needed to triple the marketing budget at the state tourism office We did that and then there was the new National Park Designation where we saw over $150 million in improvements in our state parks. Every single cabin and most of our lodges have been upgraded and this is just another step in that as we bring in private partners to help us continue to revitalize these facilities. We are thrilled to see all the numbers going up – over 100 percent revenue increase in our parks – and it looks like we have a great summer season ahead."
The ribbon cutting was emceed by WVDNR Director Steve McDaniel, who also expressed that our state parks and the new addition to Tygart Lake were quite an asset to the great state of West Virginia. He gave credit to all agencies mentioned and spoke of the great support of West Virginia Delegate Amy Summers, who he brought to the podium.
"We are just thrilled this has finally happened," she said. "It has been a five-year vision that started with my good friend Bryan Smith (Taylor County Adventure Club), who came to me and said he had an idea, that we needed a water park at Tygart Lake .. So, over the next five years, we worked with all these partners you see here to make this happen and that's what it took – a lot of people working together, having the vision for this county and for this lake to make this happen."
For a closer look at the water attractions – offering climbing, jumping, bouncing, balancing and even relaxation – see video and photos below.
Find information on lodging and restaurants located in nearby Bridgeport here on the Greater Bridgeport CVB website.