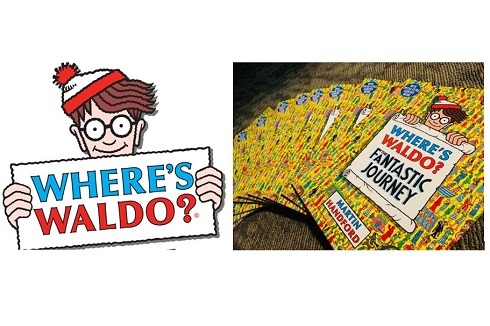 People have been asking "Where's Waldo?" since 1987 when the charming fictional character first appeared on the pop culture scene.
If you've frequented West Main Street during the past week, you might have spotted him striking a pose between the Benedum Civic Center and Dairy Queen.
Of course, Waldo came to Bridgeport. It's a great city with great people, there's plenty to do and – donning his classic red and white – he is dressed for it!
While visiting our city, Waldo has distributed some gifts for area children – copies of a large full-color "Where's Waldo? The Fantastic Journey" by Waldo creator, Martin Handford.
Books have been hidden at Compton Park, along Bridgeport City Trail between Bridgeport City Park and Main Street Station, "Alligator Park"  on lower Worthington Drive and Deegan Lake park.
We encourage kids to enjoy these city facilities over the coming days and to keep their eyes open for the hidden books. If you find one, it's yours to keep. We do ask that you find and keep only one book so others can join in the fun.
We also ask you to take a photo of your child with his or her book and send to us, telling us where you found your book.
We will run a gallery of the photos and who knows, Waldo might just decide to hide more surprises in our great city.
Pictured is Waldo, the Greater Bridgeport Convention & Visitors Bureau's representative in the 2020 display and contest, sponsored by the Associated Businesses of Bridgeport.
Here's some fun trivia about him: Waldo was created by Handford, a British illustrator who always had a knack for sketching crowd scenes. He felt there was so much energy in the gatherings. He pitched an idea to a magazine to sell the sketches and it was suggested he include a character that people could pick out in the scenes. Thus, Waldo was born. He appears in books all over the world and is known by various names. Originally named Wally, he is known as Waldo in the U.S. and Canada, Charlie in France, Walter in Germany, Ali in Turkey, Efi in Israel and Willy in Norway.
Good luck!
Read about the scarecrow display and contest 
HERE, 
where you can vote for your favorite.