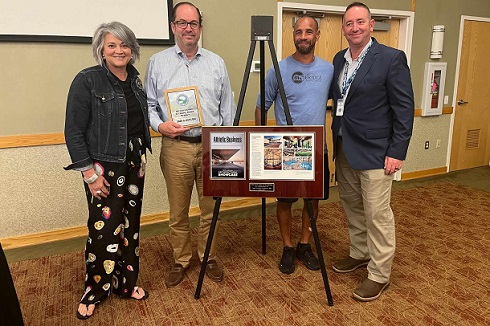 The City of Bridgeport not only hosted the West Virginia Recreation and Parks Association 50th Anniversary Conference last week but walked away with a pair of honors during the milestone event.
Bridgeport was nominated for two awards during the conference. One was the Austin C. Palmer Outstanding Facility Award, while the other was the Special Citation to a Citizen/Board Member honor.
The Bridge was nominated for the Austin C. Palmer award and was the winner. As for the Special Citation honor, Andy and Lisa Lang were nominated and were the recipients of the award.
As for the Palmer Award, it is chosen among "Outstanding facilities serving a large segment of a geographic area that are aesthetically pleasing, evidence of sound design, programmed to maximum potential and in operation for at least one year."
Bridgeport Parks and Recreation Director Joe Shuttleworth was thrilled with the honor for The Bridge. He also said it was the first time the entire facility has been nominated for the award.
"I think it's obvious for anyone involved with the facility that it's a special development for our region and our city," said Shuttleworth. "I think there's not much to compare it to in the state and even in some surrounding states. I'm very proud of the entire facility, those who operate it, and those who made it happen."
Shuttleworth said one of the best things about The Bridge being nominated is that the 160 participants on hand were able to see and experience the still relatively new Citynet Center at The Bridge. Along with the standard classroom-style events at conferences such as this, Shuttleworth said those on hand were able to tour the facility and take advantage of some of the activities offered.
The Special Citation honor requires that the "Nominee should have made significant contributions to the parks, recreation or leisure service field, exhibit a firm understanding of and commitment towards providing
 quality leisure services and exhibit a significant contribution to the leisure service delivery at the regional or state-wide level."
According to Shuttleworth, he was not surprised that the Langs received the honor.
"If you know them, then you know what type of people they are and how ingrained they are in the community," said Shuttleworth. "We specifically highlighted their work in support of Challenger Baseball, and the work they've done for the inclusive playground that we hope to see built by this spring. They do that, and so much more, that people aren't aware of."
Editor's Note: Award winners in the top photo, from left, are Lisa Lang, Andy Lang, Director of The Bridge Droo Callahan, and Joe Shuttleworth. Bottom photo shows Shuttleworth presenting the Langs with their award.