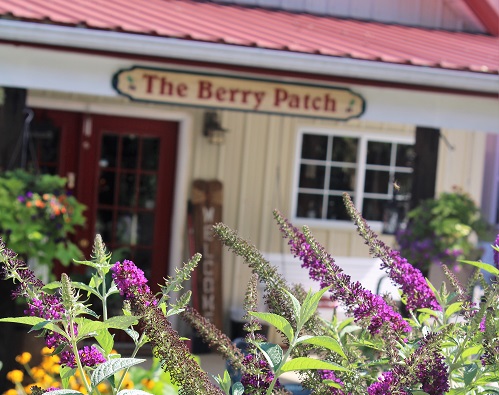 Running a business takes twists and turns.
"It's like a box of chocolates. You never know what you're going to get," said Becky Titchenal, who along with her husband Bob owns West Virginia Fruit & Berry.
West Virginia-born and raised, the Titchenals have spent the past 25 years building and promoting a brand that reflects the sweet nature of the Mountain State. The journey started with Mountain Blackberry then blossomed into Almost Heaven Black Raspberry, Strawberry Rhubarb, Cherry, Blueberry, Elderberry, Peach and Plum; the array of fruits blended into preserves, jams and jellies, fruit butters, pepper jellies and ultimately wines.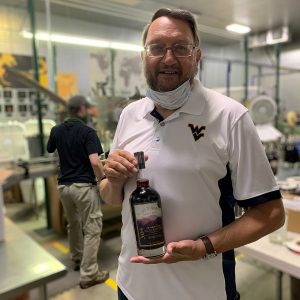 Approaching its two-and-a-half-decade anniversary, West Virginia Fruit & Berry announces the Sept. 1 launch of its newest product, 304 Bourbon Whiskey; the first in a series featuring that original star, Mountain Blackberry.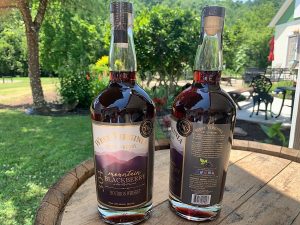 "National Blackberry Day is Sept. 12 so it's the perfect month to release our Mountain Blackberry Bourbon," said Becky of the four-year-old bourbon blended with rich blackberry flavor. It was a searching and tasting process – to find just the right flavor and formula to create a unique product; one – like their other products – would make the state proud.
West Virginia Fruit & Berry has for most of its journey operated out of Brushy Fork on Bridgeport's outskirts, where the couple lives and have grown various berries and fruit trees. The farm was open to the public for "pick your own" ventures. It also featured the Berry Patch Gift Shop, flocked with an array of colorful flowers, a testament to Becky's flower gardening talent.
It was in 1998 that they purchased the Brushy Fork property, but West Virginia Fruit and Berry has even deeper roots.
Natives of Randolph and Upshur counties, respectively, Becky and Bob met in the early 1990s. Both were in marketing and sales and both had briefly lived and worked out of state.
"We both loved the state of West Virginia and wanted to stay here," Becky said. "But we had to decide what to do here."
The roadmap was soon laid out.
"Honestly, we both always wanted to farm – to grow something," she said.
They followed their hearts as Bob worked with a cousin to grow berries on his Sun Valley property.
"He was part of a coop, working with West Virginia University agricultural sciences. Members grew value products in the state," Becky said.
That effort transitioned into the Titchenals developing their own product and brand. Utilizing their own marketing strengths, they left the berry growing, processing and bottling up to those who could handle the volume they were projecting.
"We started with jams, jellies and fruit butters," Becky said. "It was in 1995 –  just at the start of a wave for all-natural products – so we knew that our products had to be natural."
The Titchenals promoted their products at state fairs and festivals. They also introduced them to stores, including Kroger and Stone & Thomas, both which welcomed the products to their inventories.
Then came the purchase of the Brushy Fork property."
"We decided to live here, build here and put in a gift shop so we would have a location for people to come," Becky said.
Like dozens of other former WVU coop members, the Titchenals – by 2001 – became a "pick-your-own" destination.
"We were full force. We had a girl who worked the store and sent jams and jellies across the country via mail orders," Becky said. "We continued that path for 12 years."
In 2014, talk began of adding wines to their product series. A year later – year 20 of the business – jam and jelly sales had plateaued and it was time to add the wine.
"We felt very led," Becky said.
The couple approached Kroger, a major chain that had been very supportive to their company since 1997.
 "If we come out with a wine, will you put it in the stores, and they said yes," Becky said. "They put us in all stores in Mid-Atlantic in both West Virginia and Virginia as they did the preserves many years ago."
And so, the  journey continued.
"We just let it go and went with the flow," she said. "The beginning of our fruit wines started to develop in the same flavors as our jams and jellies. They were marketable and tied together: All these products we grew up with."
Labels featured familiar/nostalgic names like Mountain Blackberry, Wild and Wonderful Raspberry, Luscious Cherry Blossom and a throwback to Becky's childhood and nod to a special late relative, Uncle Jake's Elderberry Wine.
Having lost their faithful store manager to cancer and many other changes taking place, the Titchenals now open their gift shop on a by-appointment basis.
What's next in series of twists and turns?
In the short term is the release of two additional bourbons -including a Rye Whiskey – both expected to debut by the end of 2020.
In the long term, the Titchenals look forward to expansion of their brand and business, which is now including a new generation.
"Bob and I are getting older, so it's harder for us," Becky said. "We have two sons and four nephews showing interest in running the farm and reopening it again to the public."
The family currently owns 70 acres and are looking to extending that acreage.
The future may feature an on-site wedding facility, restaurant and small distillery.
"It would be huge for this area and we're looking for investors to help with that," Becky said.
A date for a bourbon launch party at Rocko's in Bridgeport will soon be announced. Read more about West Virginia Fruit & Berry at its Web site
HERE
. Call 304-842-8945 to make an appointment to visit the Berry Patch gift shop.