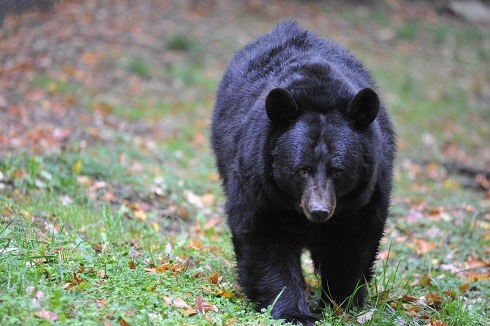 Blog by Julie Perine
In the mid-1970s, I visited the French Creek Game Farm, taking a particular liking to Jack the Bear, born circa 1972. He had a personality and was a crowd pleaser, delighting in visitors' treats.
"Many folks remember feeding Jack popcorn, honeybuns and soda," said Judy Channell of the facility, managed by the West Virginia Department of Natural Resources.
For my family, it was the little glass bottles of pop. In the early years, my sister and parents visited. In Jack's latter years, the next generation of our family along and were likewise charmed by Jack.
He was not only a friendly bear, but a big one.
"He is believed to be the largest black bear in West Virginia," Channel said. "He measured 87 inches from the tip of his nose to his tail and reached eight feet standing up. His last recorded weight was 586 pounds (in 1985), but it is estimated that he weighed nearly 700 pounds at his prime weight."
Jack passed away in 1994. His massive and nostalgic body is now on display at the gift shop of the facility – which in 1986 was renamed the West Virginia State Wildlife Center, incorporating animal habitat improvements.
"The exhibits you see now were designed and built beginning in 1984. Funding was obtained using matching federal monies from the Land and Water Conservation Fund of the U.S. Department of Interior," Channel said. "The previous cages were small and had concrete floors. The new enclosures are much larger and more like home to the animals."
The French Creek Game Farm was purchased in 1923, utilized to pen-raise various species of game birds and animals – wild turkey, white-tailed deer, quail and pheasant, among others – for restocking projects.
.
It was heavily visited, even way back then.
"From the beginning, the recreational and educational values of the Game Farm were recognized by area residents," Channel said. "In 1926 alone, nearly 6,000 visitors came to view the animals. One large crowd gathered to see three elk brought by wagon from the railroad station. In 1927, the number of registered visitors grew to 20,000."
The program was discontinued, she said, when it was proven to be biologically unsound.
These days, many changes have been implemented.
"All the enclosures were developed with guidance from APHIS (Animal and Plant Health Inspection Service)," Channel said. "All zoos are inspected and regulated through this branch of the USDA."
The enclosures are designed to replicate each species' natural habitat. Water and feeding systems are cleverly disguised because it would not look like a natural habitat if those items were visible, she said.
The exhibits feature elk, bison, river otter, mountain lions, white-tailed deer, red and gray fox, bobcat, ring necked pheasant, wild turkey, racoon, skunk, groundhog, fisher, black bear, wild boar and coyote – all native to the state. Also on exhibit are raptors including bald eagle, golden eagle, red-tailed hawk, great horned owl, screech owl, barred owl and black vulture – all from raptor rehabilitation centers and deemed unable to be released back into the wild due to their injuries.
Animals come from accredited zoos or from Division of Natural Resources wildlife biologists across the state. Today's Wildlife Center stars – a pair of mountain lions named Lewis and Clark – were actually rescued by firefighters in western Montana.
After rehabilitation at the Montana Wildlife Center, Lewis and Clark were housed at the Columbus Zoo. They even joined Zookeeper Jack Hanna at an appearance on The Tonight Show.
Despite their fame, other resident animals are quite popular.
"The river otter, bobcat and black bear are also at the top of the list," Channel said. "I always tell folks that the coyote is our most interactive exhibit. If you howl, he will howl back at you."
In 2019, the Wildlife Center had visitors from 48 states, as well as from France, England, Canada, Denmark, Germany, Italy, Poland, Spain, Mexico, New Zealand, Scotland, Russia, Australia, Kenya and Austria.
Located in Upshur County – about a 45-minute drive from Bridgeport – The West Virginia State Wildlife Center is open 9 a.m. to 5 p.m. daily.
In addition to getting a glimpse of Jack the Bear, the gift shop also features concessions, stuffed animals, toys, T-shirts, hoodies and some popular new items like Hershey's hand-dipped ice cream, Simply Southern apparel and Girlie Girl items.
For more information about the West Virginia State Wildlife Center, including directions, visit the West Virginia Division of Natural Resources Web site 
HERE
.
Editor's Note: Pictured from top: Daniel the black bear captured by Daniel Friend; river otter by Kent Mason and Lewis and Clark the mountain lions by Tyler Evans.