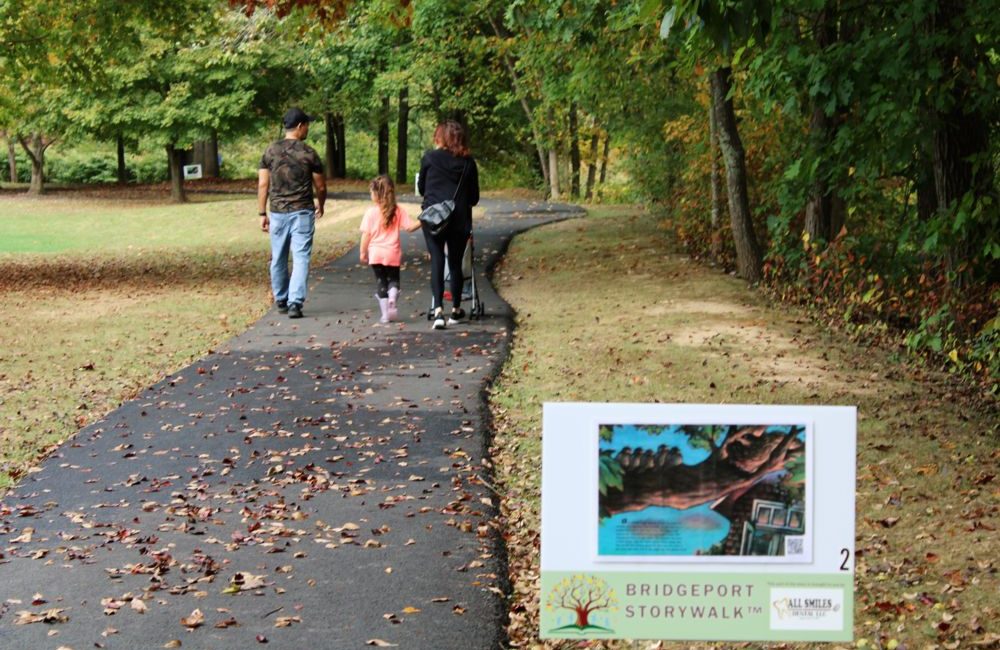 Story Walk is now open at Bridgeport City Park. Key players in the project gathered Saturday afternoon in the park to cut the ribbon on this brand new attraction.
"Anytime you combine reading and exercise, it's a great idea," said City Manager Randy Wetmore.
Project coordinator Melanie Groves provided a welcome and described the project, thanking all involved in bringing her idea to light and those who financially supported it. Bridgeport Parks and Recreation, Bridgeport Public Library, 4-H and Bridgeport Lions Club were all instrumental in making the StoryWalk happen.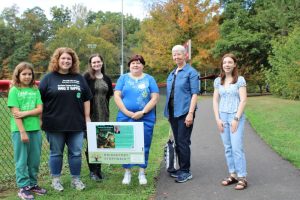 Among those on hand were City Councilman Jon Griffith, Bridgeport Public Library Children's Librarian Cori McDaniel and author Anna Smucker. Her book, "Outside the Window" is the first featured story. Pages of her book are laminated and located across the walking trail for
The first featured story – "Outside the Window" by local author Anna Smucker – is located along the walk trail around City Park.
The pages of the storybook have been individually printed, made weather resistant and placed on signs along a walking path for walkers to enjoy as they stroll along.
The StoryWalk is wheelchair accessible, and pages can be read audibly through the use of QR codes.
"Cori McDaniel recorded herself reading the book. By scanning the QR codes, StoryWalk participants can hear her voice reading each page," Groves said.
Groves and other organizers were thrilled by community businesses, families and others who stepped up to financially sponsor the project.
.
Fifty dollars will secure your business logo or family's name on a sign as a supporter. The next two books to be featured are "The Pugkin Patch" by Ashley Mossallati and "Piper the Elf" by Colleen Driscoll. Both authors are local. Groves said they hope to feature the works of other area writers.