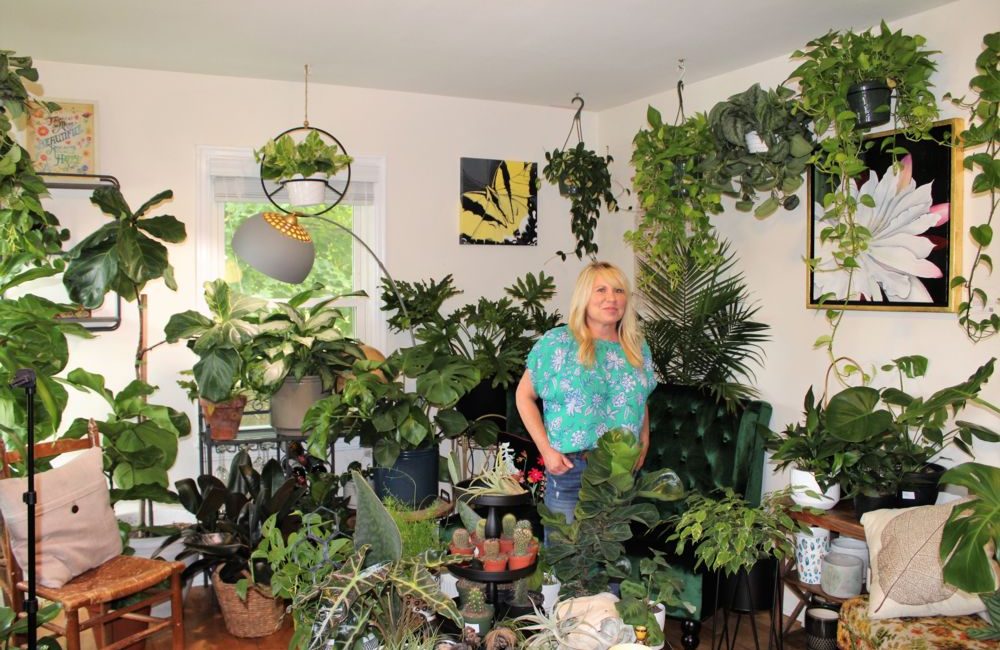 The little white building at 353 East Main Street is now a plant haven. Featuring tropical, house and patio plants, it has become home to Roaming Roots Plant Shop.
"I've had my eye on the building for over a year when I first thought of opening a plant shop," said owner Leslie Toothman. "I could just picture it in the spring and summer – flowers in the windowsills; the front lawn all jungle-like, lush and full. It just has that vibe – that character – I was looking for."
Toothman carries a wide variety, with new items arriving regularly.
"It changes all the time. I try to carry something for everyone from $4 to a couple hundred-dollar potted plant. If a teen who is starting to love plants comes in, I want him or her to take something home – even a cutting and I'll explain how to take care of it. If someone wants a nice potted plant for a funeral or other gift, that's available too."
Tropical plants include hoyas, philodendron, tropical ferns, and countless other varieties. House plants include, but certainly aren't limited to, spider plants, peace lilies, jade plants, bamboo, ivy, and African violets.
"For the holidays, we'll also have Norfolk pines, Christmas cactus and poinsettias," Toothman said.
In fact, she has plans to create a winter wonderland and offer photo ops with Santa.
Looking ahead to spring, she plans to feature plant varieties in Mother's Day keepsake containers. She also will host workshops offering networking and nurturing of plants and each other.
"I love the idea of bringing people together to talk about different topics and listen to different views," Toothman said.
Hosts may range from artists and art therapists to plant care specialists and fitness instructors.
Toothman explained how she became passionate about plants.
"I was digging up my whole backyard to create a cottage garden, then it got cold, and I had to bring lants inside," she said. "I learned how to propagate, taking one plant and being about to make 10 plants so I could share or just have more."
Through self-teaching, she learned via trial and error how to care for various types of plants.
"Under the right conditions, I loved watching plants thrive and grow," she said.
She thereafter obtained a business license and a few clients – from individuals who needed help with their patio and pool areas to businesses requesting even bigger jobs.
"I did the Wonder Bar flower beds and waterfall and a couple other businesses hired me to do things like that," she said.
In June, she opened a small shop inside Babe & Honey Artisan Market on West Main Street.
"It ended up being the absolutely perfect space," she said. "It gave me confidence to know this would work. I saw the interest was there and it's something I wanted to invest more into."
So, when she discovered the East Main Street building – previously occupied by Authentically Mia's restaurant – was available, she knew it was meant to be.
A grand opening celebration will be held 11 a.m.-2 p.m. Sunday, Oct. 24. Participating will be The Lunchbox Food Truck, Sweet Spot Farm & Apiary, Stonehaven Farm, The Plant Mom and Green Acres Farm. Also represented will be Main Street businesses, Sun Moon Apparel and Appalachia Curated. Live music will be provided by Greg Harrison and Physique by Dominique will host an open yoga session on the lawn. Inside, the artwork of BJewell Studio will be featured.
Roaming Roots Plant Shop is open 11 a.m.-6 p.m. Thursday through Saturday and 12-5 p.m. Sunday.