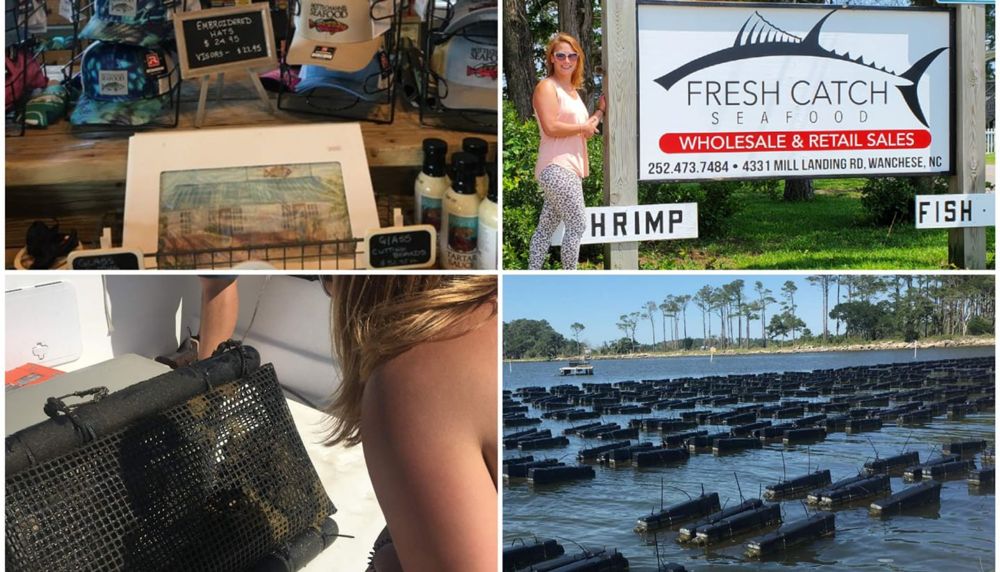 Soon, area residents can purchase fresh seafood in a snap. Slated to open in just weeks is Shrimpy and Snappy's – offering a variety of quality sea fare from across the east coast.
"We plan to sell fresh seafood from the Outer Banks area and in time, we'll be headed eve further south to Florida and north towards Connecticut, Massachusetts and Maine," said Amy Craddock Harris, who along with husband Josh owns the business soon to be located in White Oaks.
A nurse by trade, Amy recently made a career change – working at her husband's airicraft maintenance shop so she could spend more time with their youngest child.
"I knew once he starts school, I will need something more to do," she said. "I'm too much of a busybody!"
After a little brainstorming, it was a given that they would start a seafood market.
"My husband and I both enjoy seafood very much and we've always been disappointed with the lack of selection in our area," Amy said.
"Being a landlocked state, it makes sense why the selection is so small, so we thought 'why not bring it to us?'"
The fact that Josh is a pilot facilitates the process. In fact, the couple has already made a trial run. In October, they made a trip to the Outer Banks to retrieve shrimp.
"I made mention to friends and family that we would be bringing this back home," Amy said. "What started as a 100-pound run turned into a 200-pound run. We had to turn away some requests for the shrimp as we ran out in two days."
In June, they made a return trip to the Outer Banks, securing additional connections, including – but not limited to – Amy's cousins who work on fishing boats.
"Everyone we've met has been very friendly and helpful," Amy said. "We even met a lady who runs a seafood market in North Carolina who is originally from Charleston, WV. We will be offering her brand of cocktail and tartar sauce in our market."
In addition to shrimp, Shrimp and Snappy's will offer shellfish including scallops, crab and oysters in shell, as well as tuna, snapper, mullet, blue fin and shark.
"We will also be offering some more regionally local products to customers, such as Kelchner sauces, Hank's Hot Sauce, Steel City Salts and The Pickled Chef.
Shrimpy and Snappy's will be situate on Jerry Dove Drive at the same shopping plaza that houses Don Patron restaurant.
The couple is very pleased with the location.