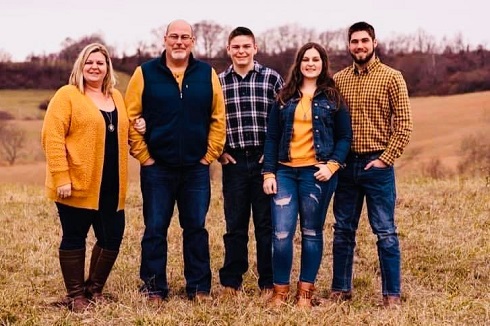 The tiny homes trend has swept the nation and now it's hitting close to home. Owned by Kerri and Chris Drake, Kozy Cabins will soon be located along I-79, just off Barnett Run Road (next to North 79 Trailer Sales), selling Amish-built she sheds, man caves, metal barndominiums, garages, barns, and more.
"We traveled to the Amish country and located a company and they wanted a dealer in our area," Kerri Drake said. "They are Amish built and constructed very well."
Unique about the Drakes' business is they can also finish out the interior. With Chris a contractor, son Sam working in computer-aided design/surveying, and Kerri having an eye for interior design, Kozy Cabins is a true
family business. And it's one inspired by family, as well.
"So, it started with (our daughter) Kaylin going to college this year. She started looking at converting a shed into a tiny home," Kerri said.
The family was intrigued and began shopping in the local area, unable to find just what they were looking for. They then began traveling to Pennsylvania and Ohio, where they discovered and learned of a company's desire for a North Central West Virginia presence.
"We came home and started thinking about it. Since Chris can use his contractor's license to finish them out, we thought it was a win-win," Kerri said. "We will be offering sheds, greenhouses, and pavilions – typical of what you see around here a little bit – but really our focus is the tiny home," Kerri said. "Structures go from little 20×20-feet all the way to 50×100. We can draw out floor plans based on customers' needs, show them a couple of different designs. We take their vision and make it happen. The turnaround time is pretty quick, too."
Even before officially opening, the Drakes have about 50 tiny homes in queue for prospective buyers. Workshops, art studios, offices, granny pods, and even downsizing are reasons why people are purchasing.
"We've heard from older ladies whose husbands have passed away and they don't have the ability to keep up with their home, but still want to be independent," Kerri said.
And if going big is what the customer is looking for, Kozy Cabins can accommodate them, too.
"We will eventually be offering not just two-story, but doublewides and they've already converted doublewides into two-story structures, so we'll be offering modular living as well," Kerri said. "With something larger, we have contractors who will finish them out."
The tiny home is quite popular in several states. The Drakes believe those in the local area will jump on board with the trend.
Kozy Cabins is scheduled for an April 1 opening and will be working with multiple contractors in the area.
"We are accepting appointments now to beat the summer rush," Kerri said. "Delivery estimates are three to eight weeks, depending upon the size that is ordered."
Pictured on cover is the Drake family (left to right) Kerri, Chris, Ty, Kaylin, and Sam.
Also pictured are a couple of options available for purchase at Kozy Cabins.