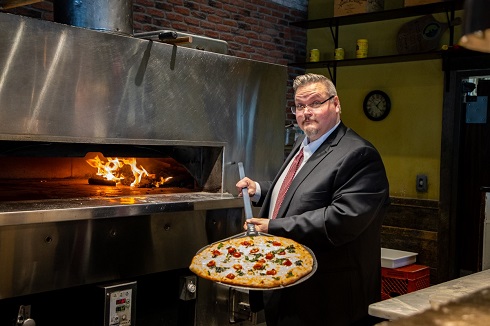 He has cooked for U.S. Presidents at the Norfolk Waterfront Founders Inn and entertained celebrities at the Regal Royal in New York City. Now, Chris Thomas is returning to his North Central West Virginia stomping grounds to serve as food and beverage director at Charles Pointe Hospitality/Bridgeport Conference Center and general manager of Mia Margherita.
"This position was interesting to me not only because of the restaurant work, but also my background with hotels and hospitality. It really interested me to have multiple roles and bring things together. I love working in food and beverage. It's kind of chaotic to most, but I really enjoy it."
Steve Ludwig, director of hospitality for Charles Pointe Hospitality and Genesis Partners, said he is happy to have Thomas on board and that he is ideal for the position.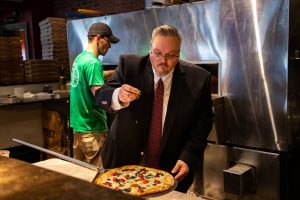 "Chris brings a hands-on, high level of culinary knowledge and experience to his general manager role at Mia Margherita. He has a history of developing and mentoring staff members into positions of greater responsibility within the organization. Chris also supports the food and beverage operation at the Bridgeport Conference Center, and we are excited about the creative impact he is having on our banquet events. Chris is a great addition to our team as we invite everyone to stop by and meet him on their next visit to Mia Margherita."
Thomas – who started his culinary journey at Johnson & Wales University – has much to bring to the table. He additionally acquired education at Tidewater Community College, WVU, Marshall and Fairmont State universities, Bluefield State College, and Science School at William & Mary College. He has also toured Europe, experiencing cafes and bistros from France to Rome.
"I've tried to build a decent resume. I love being knowledgeable and love that I can bring all that back to West Virginia," said Thomas, a native of Weston.
While attending Johnson & Wales, Thomas completed an apprenticeship at the Regal Royal in Midtown Manhattan.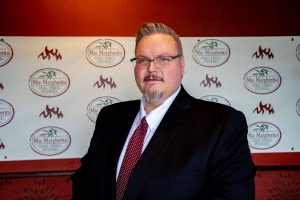 "I was part of multiple dinners there, including the movie premiere for 'The Titantic,'" he said. "It was really crazy because the media – and just everyone, really – bashed it and thought it would be a complete flop. It had gone way over budget and Leo DiCaprio was one of the only people who thought it would do as well as it did."
That wasn't the only upscale celebration Thomas helped make happen.
"I had the opportunity to start out as executive chef at Norfolk Waterfront Founders Inn, where we had major events from political campaigns to you name it. We did a lot of functions for the Navy and even did the christening for the USS George Bush," he said. "So, I was able to cook for George W. and George Bush Sr., but had also cooked for Barack Obama, the Clintons, Jimmy Carter, and Nancy Reagan. We also had celebrities, everyone from Jerry Seinfield to Arnold Schwarzenegger and Tom Hanks."
Yes, there are a couple of standout memories, including being called to the table of Secretary of State Donald Rumsfeld because his wife was so impressed with his salmon, lobster, and leek dish – and having to break the news to The Weather Channel's Jim Cantore that there was a zero percent chance of blueberries for breakfast.
"We also had an opportunity to work with NATO and some dignitaries, including her Royal Highness Princess Tess of Edinburgh," he said. "You know, when you're in the moment, you're so busy, but then you look back and say, 'Yeah, that was pretty cool.'"
While at Founders Inn, Thomas and his culinary team won a competition at Scope Arena, working with the celebrity chef, Bobby Flay.
And the culinary adventure all started, he said, when his sister gifted him a cookbook featuring recipes of The Greenbrier.
"I looked at the picture on the front cover. It was very artistically done. This was during the late-1980s to early '90s while I was going to school and just didn't really know what I wanted to do," he said. "But I loved cooking at the time and I finally got an epiphany that I wanted to cook – like that."
After enrolling at William & Mary, Thomas was so pleasantly surprised to encounter French Cuisine Instructor Frank Peace – the very individual pictured on the cover of that Greenbrier cookbook.
"My eyes lit up and I thought, 'really?' There was a little bit of kismet there that we crossed paths. He took me under his wing, taking an extra couple of minutes during the day to go over things and drill down on the principle of things," he said.
Thomas has arrived at his position at a challenging time as Bridgeport Conference Center works to reinstilling a solid presence following a pandemic-related slowdown.
"We're starting to book things, taking it slow because we don't want to overcommit and underdeliver," Thomas said. "We're hiring folks and getting things up and running."