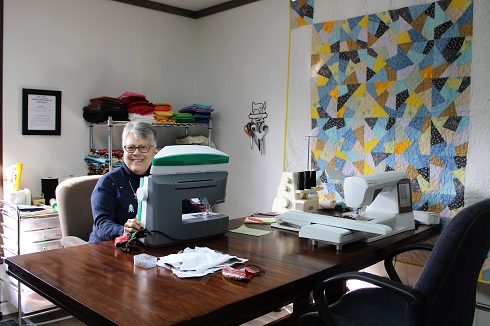 Vickie Fahey's business is bursting at the seams. After six months or so at its West Main Street location, "Sew What" has outgrown its original space and moved to 12 Chenoweth Drive.
"We are inside the U.S. Nursing Network, on the top floor," said Fahey, who opened her business in December of 2020. "We have two rooms, a private bath and a storage area – and we needed it."
Fahey and her partner Linda Davis have been busy embroidering, monogramming, sewing on scout and biker patches, making and selling masks, aprons and other items and doing lots of seamstress work.
"We are altering prom dresses galore and dresses for upcoming weddings," Fahey said. "We hem, let clothes in and out, shorten and lengthen. We have a lot of return customers."
Fahey said she was very blessed to find the West Main Street space in late-2020 when she decided to open up shop. Renting from Judy and Mark Bonamico and working directly with The Starving Artist owners Amanda and Bill Leaseburg was a very good experience and gave Sew What a great customer base.
When forced to move to a bigger space, Fahey said she didn't want to go too far and stay convenient to her customers.
When opening, the women operated a sewing machine and embroidery machine. They have since added a second sewing machine and a serger – which really helps.
Sew What has also expanded its hours, now open 10 a.m. to 5 p.m. Monday through Friday.
"You can call for an appointment, but it's not necessary," Fahey said.
Fahey thanks the community for its support.
Reach Sew What by calling 304-669-6423. Chenoweth Drive is located betweeen Wilson Martino Dental and Dr. Theodore Kress, Optometrist.
Read the December 2020 story about Sew What 
HERE
.