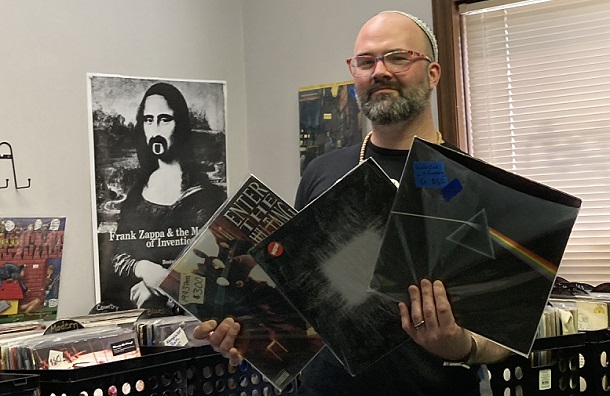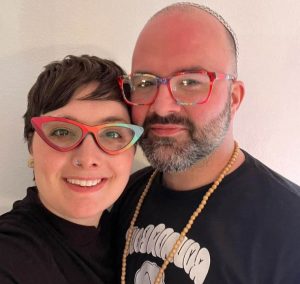 For the last several months, a Bridgeport business has been booming. And it has been booming right along Main Street offering an old product that has had a rebirth in the past decade.
Right before Christmas, Roundabout Records opened on Main Street. Although they are not a one-trick pony, the specialty of the shop is vinyl records.
For those who do not know, vinyl records were a staple for decades before cassettes, compact discs, and then digital formats of music pushed it to the side. Over the last decade, vinyl records and their sales have soared.
A recent report from the Recording Industry Association of America showed $1.2 billion in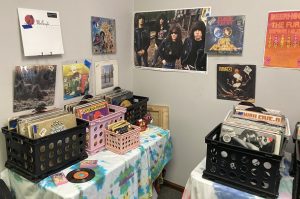 purchases in 2022, which is a 20 percent jump from last year. Even more impressive, for the first time since 1988, the same report said records outsold CDs.
If you are into that new market, which includes new releases and many individuals searching for items from the past, Bridgeport High School 2002 graduate Christopher Lacaria's business situated inside Market on Main, is a must-stop. And if you're new to the idea, or even curious, you have a fresh local stop in the heart of Bridgeport.
"We specialize in the rare and obscure, but that's not to say that's it. We have something for anyone," said Lacaria, who works with his wife Emily who keeps the finances in line.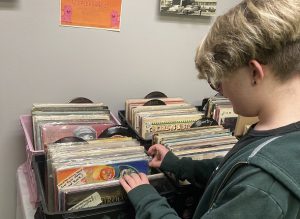 That sounds like the case. Lacaria said things records available stretch from Taylor Swift to Captain Beefheart and all points in between.
"We have roughly 3,000 albums. I don't want to overwhelm you with quantity, but quality. On most of my records you will say 'oh my God, where did you find these.' In a lot of places, you might find one or two crates like that," he said. "Here, you're going to find 28 crates of mind-blowing albums."
Lacaria is not taking advantage of the return to records simply because it is profitable. He has always been interested in vinyl. In fact, it is a family affair.
"My earliest pictures, have one or two records in my hands because my family was in the vending business and we had jukeboxes," said Lacaria, who is also a teacher at North View Elementary School. "When my father would switch records out, he would give me the old ones and that started and infatuation because I was listening when no one else was.
"It's amazing to think I was collecting these to going to yard sales as part of what was essentially a hobby," he continued. "It's evolved from a hobby to a legitimate source of income."
That source would not have happened if not for being asked to place some vinyl records at another Main Street business Sunmoon Apparely. They approached Lacaria about putting in a crate of records to see if they would draw interest.
"I was doubtful anything would sell," said the 39-year-old Lacaria. "The crate was gone in three days, so we did another one, and here we are. We actually still have a pretty significant number of choices at Sunmoon."
Lacaria is thrilled with the ability to have a business related to what started as a hobby. However, he said the recent boom has made things a little more difficult.
"From a collector's standpoint, it is harder to find vinyl and the prices are going up," he said. "Still, I'm glad that this is back and in demand."
Lacaria pointed out the business is also a record label and recently did a limited run of 50 cassettes for a group out of Clarksburg called Cellophane Riot. As of the end of last week, Lacaria said only two remained.
He also pointed out that they are an independent shop. Lacaria said he can order from various distributors for just about anything on the market.
Roundabout Records is open Tuesday through Thursday from 11 a.m. to 6 p.m. and on Friday and Saturday 11 a.m. to 7 p.m. You can call the store at 304-931-1681.
Editor's Note: Top photo is of Christopher Lacaria in his business, while the next two show some of his offerings and a customer browsing. In the bottom photo, he is shown with his wife Emily. All photos submitted by Christopher Lacaria.