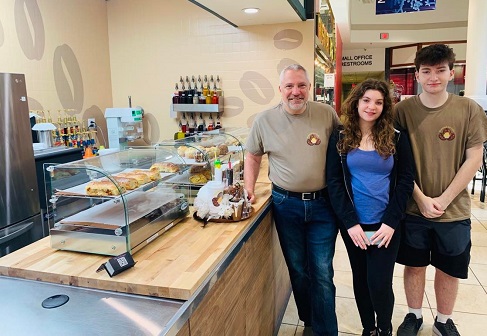 Roasted Ice Cafe opened this week at Meadowbrook Mall. Located in the Food Court, the locally-owned business offers shaved ice, Italian sodas, cold brews, as well as hot drip basic and specialty coffees, teas, hot chocolate and chai lattes.  Also featured are fresh pastries -including muffins, cinnamon rolls, baklava and more – baked daily at Freshest Dough in Morgantown.
Meadowbrook Mall Property Manager Robin Urquhart said she anticipates much success for the Food Court's newest addition as it has been some time since there was a coffee shop located inside the mall.
Owner Bryan Sheme is a former employee of the FBI CJIS Division.
"I just wanted to do something different," he said. "I had always wanted to start a new business on my own, so when we came up with this idea, I just semi-retired and stepped out of my comfort zone."
The idea for a shaved ice and coffee bar was a joint effort, one in which his kids Jared and Bethany played a role. Bethany mentioned that during a trip to Hawaii, there were long lines to purchase shaved ice. So, that was the original focus. Then when it was brought to Bryan's attention that the mall no longer had a coffee shop, the hot and cold brew specialties were added.
With no prior experience in either area, Bryan relied on the internet for instruction.
"I learned everything I could about coffee and also went to Shaved Ice University online," he said.
The shaved ice flavor for March is Bahama Mama, with everything from Banana, Blackberry and Blue Hawaiian to root Beer, Strawberry and Tiger's Blood available daily.
Everything served, including syrups, is made on site. Assisting the Shemes are extended family members, who handle barista and management duties.
Roasted Ice Cafe opened Sunday and a ribbon cutting was held Monday morning, facilitated by the Harrison County Chamber of Commerce. Bridgeport City Council member Jon Griffith spoke on behalf of the city, offering congratulatory remarks and wishing the business much success.