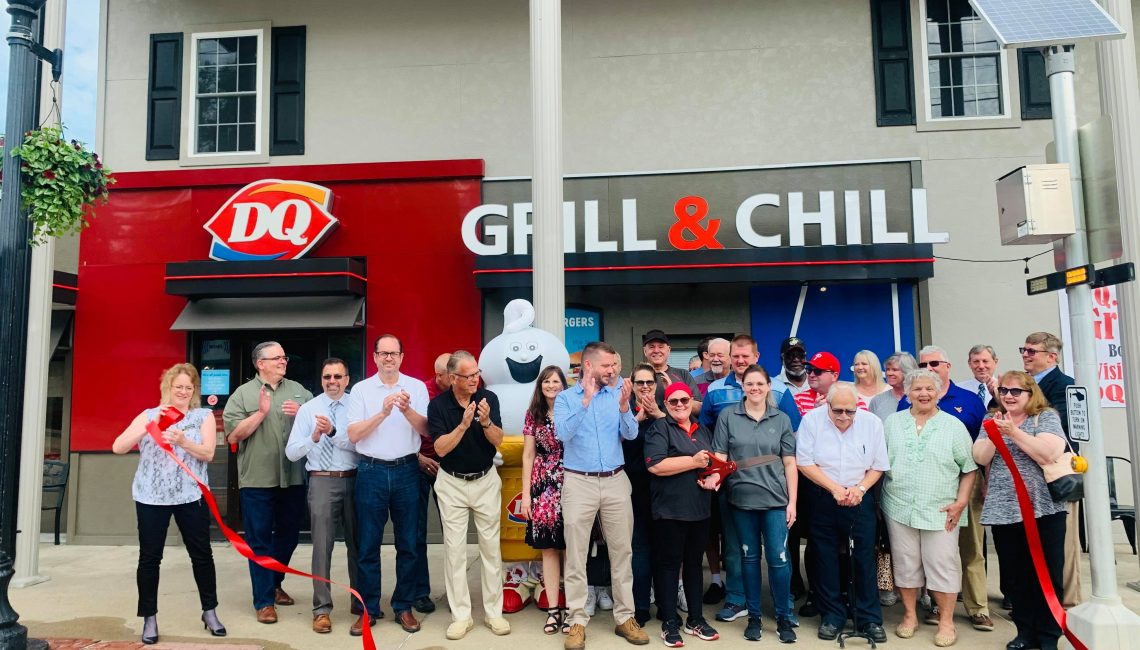 Story and photos by Julie Perine
With plenty of supporters on hand for the occasion, the LeFevre and Keith families cut the ribbon Monday morning on Bridgeport's Dairy Queen, marking extensive exterior and interior renovations, which include a meeting/party room.
Mayor Andy Lang said it's about reinvesting in our community.
"Our community continues to build new structures – as we should – but we also continue to reinvest in our community and that's important," he said.
The Dairy Queen is located at 154 West Main Street, inside one of the city's oldest structures, built in 1914.
Although originally situate across Main street, the Bridgeport DQ celebrates 65 years this year. It was established 15 years after the Dairy Queen brand originated.
"The Alvarez family was the first family to have the franchise across the street and after that, Jerry Boyce and his wife maintained the family ownership. After a number of years, they sold it to Ed and Sharon Helmick and junior partner Tim LeFevre," said Mike Queen, who served as master of ceremonies at today's celebration. "Tim ventured out on his own over the next 40 years, having a career with Nestle that took him all over the country. In the meantime, he and his wife Amy built a chain of Dairy Queens."
The LeFevres presently own 10 Dairy Queen stores, from Grafton to Parkersburg. The LeFevres' daughter Lindsey and husband Roger  Keith co-own and operate the Bridgeport store.
They all thanked those who gathered for the occasion and the community in general for supporting the longtime family business.
The Bridgeport Dairy Queen is the first in the state with the new "3.0 look," Lindsey Keith said.
It included complete renovation of the dining room – everything from lights to tables and floors, as well as new front counter and a new expeditor, shelves and walls. The kitchen was also remodeled, adding new equipment. The exterior underwent a repaint with new lights and windows, highlighted by a giant red Dairy Queen spoon, a recognizable icon.
The fully renovated meeting & party room features wall-mounted TVs and will accommodate up to 60 people.
Roger Keith oversaw the $600,000 remodel project.
"This is a real asset to Bridgeport – state-of-the-art stuff," Queen said.