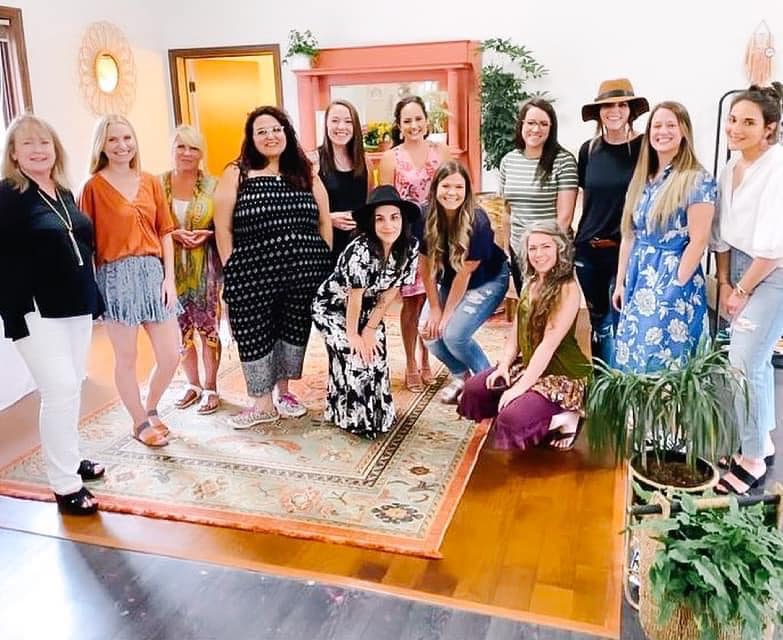 Looking around at the variety of wares offered by 17 resident artisans, Casey Gorby said her vision for Babe & Honey Artisan Market has certainly played out.
"More than anything, I wanted this to be a place where women came together and supported each other and rooted for each other," she said.
Named after her grandparents' terms of endearment for one another, Bridgeport's newest store opened Friday. It is located at 103 West Main Street in the building which most recently housed The Starving Artist/The Sanctuary.
A complete interior paint job set the backdrop for Gorby's off white and terracotta/pink color scheme. Soft to the eyes with a subtle pop of color, the atmosphere is just right for browsing an array of products from handmade baby clothes to jewelry, soap, candles, personal care products, ornaments, vintage/thrift clothing, home décor and macrame plant hangers ideal for displaying a lavish green plant by Roaming Roots.
Vendors are Appalachia Curated C&H Expressions, Mountain Mama Magick, Foxy Fonts, Parties & Peonies, Hippie's Daughter, Golden Rose Creations, Hilos Co., Eighteenth Avenue Boutique, Hawke Design Shop, Capital Letter, Sigley's & Sawdust, Anthony Jean, Mo Baby Handmade and Quartzstone Studio Art, 310 Soap Co.
In addition to vendor products, Babe & Honey will also feature an on-sight photography studio, Kaylee Kroll Photography; Vicki Angotti's custom jewelry business Vittoria & Banks, Sovereign Gypsy Seamstress and Melissa Romano life coaching and yoga.
"We hope to eventually offer different classes, such as jewelry making, plant care, yoga and other classes," Gorby said. "I think this is going to be something that Bridgeport hasn't been able to experience yet."
Just across the street from Almost Heaven Desserts & Coffee Shop, the location is ideal for such an addition to the city's Main Street corridor.
Even before the "open" sign was placed on the door, Babe & Honey has begun to accomplish Gorby's dream for her new business.
"The other night, six of us were here getting things ready and the women were helping each other set up, taking pictures for each other and that's exactly what I wanted – a place where women gathered to support each other and it's already becoming that, even before we opened."
Other vendors will likely be added to Gorby's lineup. Hours of operation are 10 a.m. through 6 p.m. Monday through Friday and 11 a.m. through 4 p.m. Saturday.
Follow Babe & Honey Artisan Market on Facebook and Instagram @babe_andhoney. Reach Gorby via email at 
babeandho