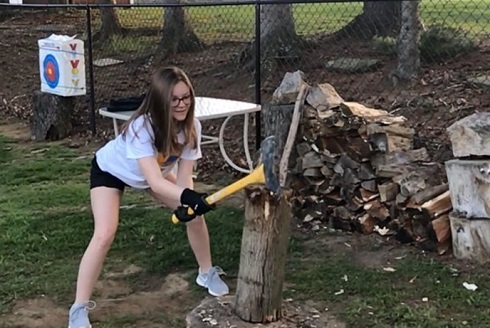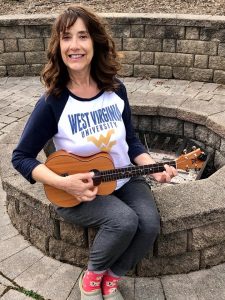 The COVID-19 lockdown has given some residents extra time on their hands; time they have put to good use to learn or hone a hobby or skill.
Cathy Cavallo, retired from Expressions Hair Designs & Wigs, has been teaching herself to play the ukulele.
"I picked up the ukulele and got on YouTube and looked up some songs," she said. "The first song I learned to play was 'You Are My Sunshine,' which just reminds you about everything good in childhood – and love. And the second song I learned to play was 'Amazing Grace.'"
Cavallo said spending time daily with her new hobby is both relaxing and rewarding.
"Music just brightens the spirit. It's really soothing to the soul and helps us get through things. It's something to occupy the mind," she said.
"It's amazing to me. Whether you're good or not so good; neither matters. It fills that space that only music can fill. The first time you play a song – I don't care what it is – and sing it and people join in and sing with you, it's just a magical moment. And we sure need some of that right now."
Cavallo's new musical pastime is the next chapter in a love for music which she shares with her family.
"My son plays the guitar. We all play something, so it's something new to add to the mix," she said.
In recent years, she learned to play the guitar; an activity she picked up when she and her husband became empty nesters.
It's never too late to learn something new, said Cavallo, who has also been dabbling in growing vegetables and herbs – from tomatoes and lettuce to basil – right from the seeds in her groceries.
Brooklyn Randolph, a Bridgeport Middle School student athlete, is staying in shape by chopping wood. It started just by chance, she said.
"I was outside and saw my dad chopping wood for a fire. I thought it looked like a fun challenge to try and asked him to show me how to do it," she said.
She said she spends 20 minutes or so each day – in between games played with family or when she has some down time from school activity.
Randolph said she's seen definite improvement since she began her new physical activity.
"In the beginning, I could barely make a dent in the log, but now I can chop through it in only a couple hits," she said.
In addition to taking her Wii bowling skills to the next level, Tandra Freed has used her extra time to learn "some serious sewing secrets" from her mom, Faye Furner.
"My mother was such a seamstress. I can remember as a little girl, she would say she wanted something new to wear to church the next day and she would get material out, start cutting and sewing and have a dress. She could make bathing suits, lingerie, truly anything. Through the years, she has tried to get me to sew and I just didn't want to."
About five years ago, Freed got a sewing machine and started dabbling on her own. But during the past few weeks – with her mom as her live-in mentor – her skills have progressed to a new level.
"We've made doll clothes for her great-grandkids and we've made a lot of masks," Free said. "It's been great just getting to spend time with her and learning everything I missed out on all those years. It's just something she's been able to pass down to me."
Editor's Note: What about you? Have you picked up a new hobby or pastime? We would love to hear about it. Please email julie@connect-Bridgeport.com.