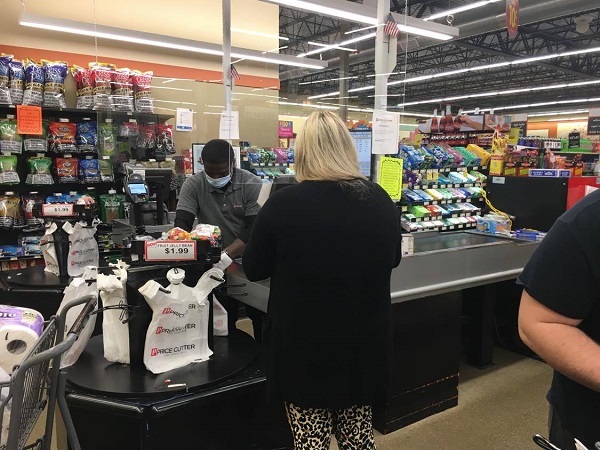 Four weeks into the COVID-19 pandemic and on the heels of Gov. Jim Justice's executive order identifying counties – including Harrison – as "hot spots," local stores are working to implement additional safety measures.
"We had already started doing extra cleaning and shifts before that, but when the governor issued the crackdown on Harrison and other counties, we went as far as limiting customers coming inside the store and creating a flow of traffic," said Price Cutter Manager Jodi Boblett.
Starting Tues., April 7, store employees have been manning the front doors, counting heads and making sure the store adheres to guidelines of occupying each 1,000 square feet of space with only two shoppers.
"We also created a traffic flow to limit backtracking and implemented markings on the floor to try to direct traffic, so people are not crossing down aisles or getting too close at checkouts, trying to keep everyone at a minimum of six feet," Boblett said.
For the past three weeks or so, Price Cutter has closed an hour early each day in order to properly sanitize the store and restock shelves. During the day, extra hygiene practices are implemented, too.
"We have someone scheduled to clean all surfaces touched by customers," Boblett said.
The extra workload – combined with the fact that some staff members have opted not to work in public due to their own increased risks or risks of family members – have required Price Cutter to employ a half dozen or more employees.
Boblett said store management commends employee efforts.
"We're appreciative of the way they are handling the situation. They are out in it every day," he said. "We're trying to show that appreciation toward them, more than we typically would have – and looking back, maybe we should have been doing it all along."
Boblett also commends Price Cutter customers.
"These people in Bridgeport are awesome; the way they are handling it all in a stressful time," he said. "I think everyone is doing a great job and being understanding that this where we are."
As for purchasing trends, it's pantry items – including canned foods and cereals – that seem to be in big demand.
"I think everyone had been used to eating out a couple times a week and are cooking and serving meals more, plus kids are home more, too," Boblett said.
Of course, customers are also keeping an eye out for items which have been scarce – including toilet paper.
"We are starting to get it back in and people are excited about it. We went through a spell when it was hard to get," he said.
For the meantime, customers are limited to one package of toilet paper per purchase. When supply returns to normal, that restriction will be lifted, Boblett said.
Dollar General has also implemented practices to ensure both customer and employee safety. Friday, plexiglass shields were installed at registers and all surfaces are washed and sanitized between customers.
"We're also adhering to six-feet social distancing, marking floors and limiting occupancy to a 14-person limit," said Vanessa Merritt, manager. "We have tags. As you come in the door, you take one. When tags are gone, you can't come into the store until another tag becomes available."
Tags are sanitized between uses, she said.
To alleviate checkout lines and keep traffic flowing, Dollar General has also hired additional staff members and has two cashiers on duty at any given time.
Merritt said the company is supplying masks for employees, but they are still waiting on them to arrive. In the meantime, she welcomes and appreciates donations of homemade masks.
She asks customers to please be patient during this time. If seeking a particular item, and it is not found on shelves, please check with an employee. Please also don't be upset if the item is out of stock, Merritt said.
Dollar General has designed 8-9 a.m. daily for senior citizen shopping.
Walgreens (former Rite Aid) on West Main Street and Champion Pharmacy at The Square remain open, with safety measures in place. Bridgeport Family Pharmacy at Charles Pointe is open for drive-through service only.