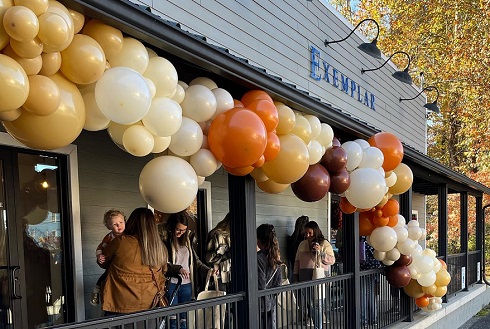 Selling sustainable, heirloom-quality children's apparel and accessories, Raising June opened its doors last weekend with little fanfare. Yet, plenty of support and excitement resulted.
"We had an incredible turnout," said owner Kelly Carey. "My clothing line, Mo Baby, was our best seller. There are only a handful of pieces left out of 60-plus."
The pieces – from tops and bottoms to dresses and jumpers – are crafted by Carey, who taught herself to sew. The inspiration, she said, was her daughter Mia.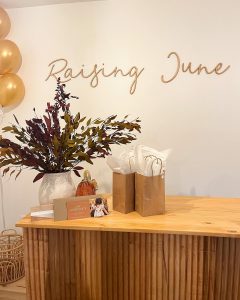 "She has cerebral palsy and as she got older, she started becoming more difficult to dress because of the muscle rigidity, but also because she's very petite," Carey said.
She designs, sews, and offers for purchase clothing from newborn through size 5T.
Before opening her storefront, Carey sold pieces through her online shop, "Mo Baby," working with organic, safe fabrics.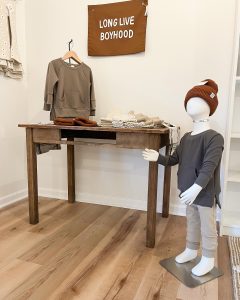 "My small shop really took off online and now, I am able to open my storefront and bring my vision to more people," she said.
Carey and her husband Jason are also parents to 3-year-old Oliver. He and his big sister Mia are models of their mom's handiwork.
In addition to her Mo Baby line, Carey sells hats, socks/stockings/knee highs, diaper bags, crib bedding, blankets, wooden toys, teethers, pacifiers, a small selection of shoes, and banners for nurseries and kids' rooms. She plans to continue to add new items and to grow her store to accommodate the needs of her customers.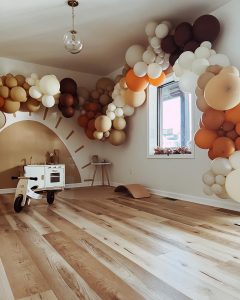 "I did sell a lot of my inventory, especially my handmade clothing, so it will take me about a week to sew a new small collection," Carey said earlier in the week.
She remains open during her normal business hours of 10-6 Tuesday through Thursday, 10-2 and 4-6 Friday, and 10-4 Saturday.
"I still do have some really sweet items left," she said. "I'll also be there sewing and posting updates on inventory and store videos daily on Instagram too!"
Raising June is located at 153 West Main Street, Suite C of The Chandler Building, across from Dairy Queen.
Read more about Raising June 
HERE
.