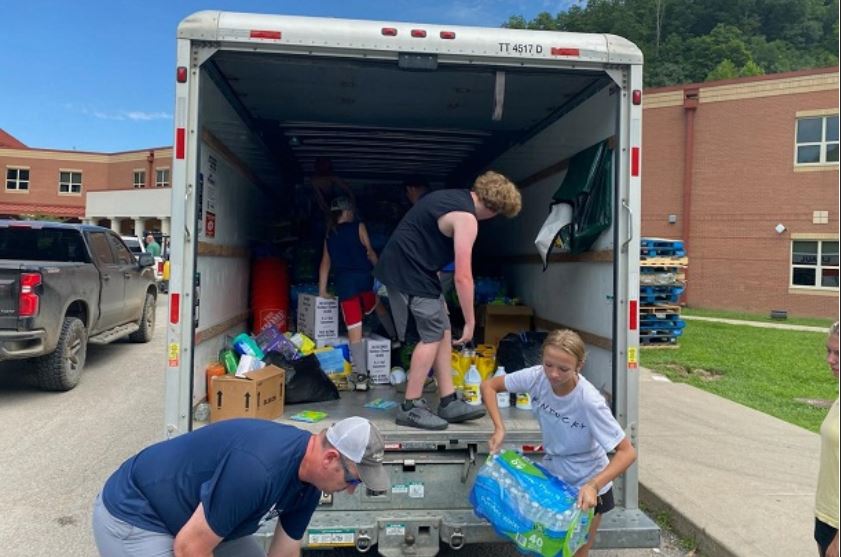 This past Wednesday, Bridgeport Director of Emergency Management Tim Curry and Parks and Recreation Director Joe Shuttleworth made a trip from Bridgeport to Whitesburg, Kentucky to deliver needed supplies to the area recently devastated by flooding. Thanks to community members and businesses of Bridgeport and surrounding areas, plenty of supplies were collected for the relief mission.
A quick announcement made Monday asked that donations of water and cleaning supplies be delivered to The Bridge Sports Complex.
"We started at noon and the cars were already pulling up," said Curry. "It went to around 8:30 p.m. when we basically had it filled but had to add more a bit later."
Curry said along with countless community members, Lowe's and Home Depot both brought supplies to be taken.
"We put everything on pallets since we knew a lot of the items could be removed by forklift. We had five pallets of water, five pallets of cleaning supplies and more than 100 five-gallon buckets," said Curry. "It was amazing. I wasn't sure what to expect, but what happened was so positive and appreciated not just by us, but by those we assisted."
With the U-Haul filled to the top and nearly from front to back, Curry and Shuttleworth traveled to Letcher County High School, which was just beyond the worst of the damage.
"We were on 119, which runs along the river into Whitesburg, and we saw houses off of their foundations, we saw mud everywhere, water lines clearly visible where the water was so high and debris all over the place," said Curry. "It was intense and heartbreaking, and we know we didn't see the worst of it. The next county over, Hazard, was moved over."
The nearly 10-hour round trip was mostly driving. Curry said once had and Shuttleworth arrived at the high school, which was the staging area and supply hub, things were unloaded quickly. And Curry said they saw something positive.
"The first thing you noticed was that as they were unloading supplied, people were taking supplies out immediately," said Curry. "The second thing was that kids from the high school, boys and girls alike, were doing most of the work with some adults and National Guard members assisting. They were students at that high school, and they took ownership of the situation in 100-degree weather.
"You don't want to see it happen but seeing those kids caring renews your faith in things," he said. "We saw the best in people as on the way down you saw truckloads of water on flatbeds, U-Hauls going in the same direction to supply points, so you knew they were doing what we were doing."
Curry said he asked for donations of water and cleaning supplies after talking with officials from Kentucky's Emergency Management Department.