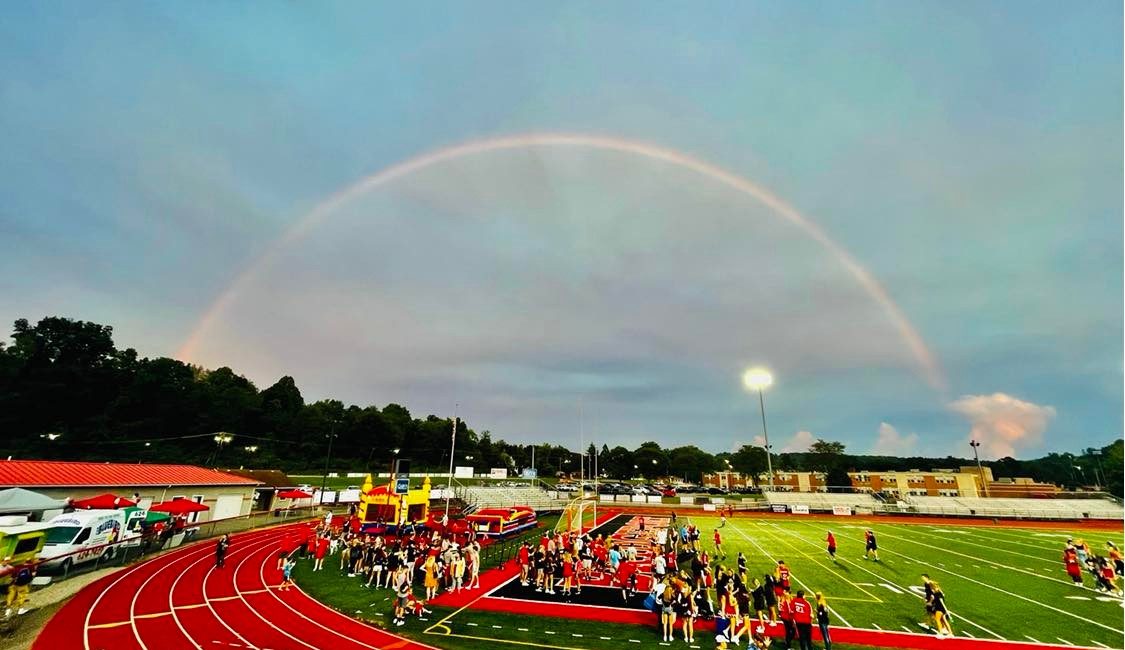 Titletown Tailgate held its debut in August 2021 and it's back for round two. Featuring plenty of activities and concession sales – as well as performances by the BHS Band, Dance Team, and Cheerleaders – the tailgate party is scheduled for 6-9 p.m. Wed., Aug. 17 at Wayne Jamison Field. Hosted by the Bridgeport High School All Sports Boosters, the event has a two-fold purpose: to raise funds and to provide an evening of entertainment for students and community members.
"We've had so many reach out to us asking if we were doing this event again. We are simply excited that our community is excited for this," said Julie Love, Boosters
 treasurer. "Last year, we were just coming out of all the COVID restrictions, so we didn't feel as prepared. Given that parents are so overwhelmed with the beginning of the school year activities, we weren't certain how the event would be received. We were pleasantly surprised at the community turnout, as well as the student participation."
Among student favorites last year were the watermelon eating contest and tug-of-war, both back for year two. The dunk tank, bounce house, axe throwing with Hillbilly Hatchets, and head-to-head competitions between classes will also be part of the event.
As for concessions, there is something for everyone.
"We will bring back the steak sandwiches with peppers and onions. Just smelling fresh peppers and onions cooking on the outdoor grill is the best," Love said. "Blue Bird will be selling frittis and we'll have cotton candy, kettle corn and popcorn."
Always popular, Zul's Frozen Lemonade will return, and the concession stand will open with all the football season favorites. It's also anticipated that Harper Randolph will have her produce stand set up.
The Boosters will also be selling BHS apparel – all new merchandise – including comfort color T-shirts, umbrellas, blankets, bags, and cups.
Taking the field will be BHS teams for the 2022-23 school year.
"The community will get a first-hand look at our awesome band's half-time show, see our new cheer squad and the new BHS dance team," Love said. "And they will see all the top-notch BHS fall athletes."
The football team's new field house and weight rooms will be open.
"Members of the community can take a look at this top-notch facility which they supported for our athletes," Love said. "Come take a peek."
Funds were raised during the 2021 Titletown Tailgate, but the Boosters are hoping for even more success this year.
"Last year was a learning experience for us. We were more focused on bringing the community/students together after COVID than really making a lot of money. We do want this event to have a fun, community, carnival-type atmosphere where people can get to know one another, get to know their teams and coaches, enjoy some fun and eat some great food,' Love said. "But this year, we definitely feel more prepared. We have more goals set."
The Boosters hope to raise money to fund the scholarships that are awarded each year. There is no cost for admission.