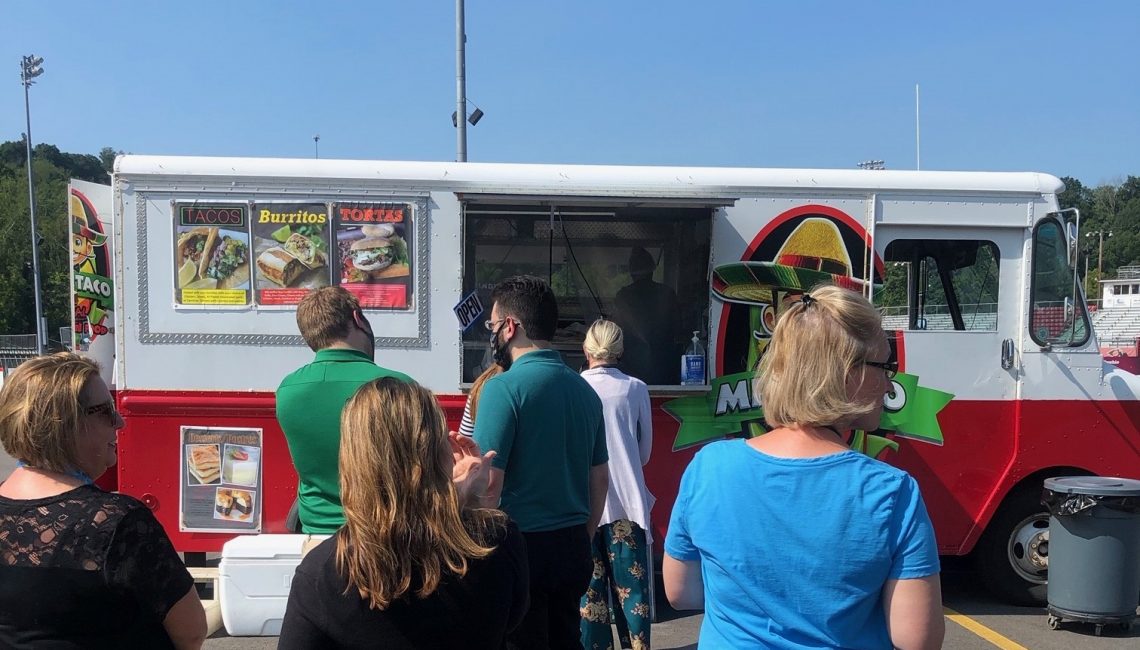 From La Tiepad in Michoacan, Mexico to North Central West Virginia comes the authentic culinary offerings of Mr. Taco Food Truck.
Owned and operated by Ken and Alma Tyson, the rolling restaurant – featuring quesadillas, burritos, nachos, tortas and, of course, tacos – started its journey in Bridgeport and will be popping up frequently in and around the city.
"Our first event was the 30th of August at All Saints Parking lot for their yard sale," said Ken. "We also set up in front of the football field between Johnson Elementary and Bridgeport High School. We have a business license to operate within Bridgeport and we're definitely excited to be here."
The couple, which also owns Alma's Kitchen and Bakery – a special order business venture in Clarksburg – have been revamping the truck for the past few years in hopes of getting the food business on the road.
"We did it all – built it from the ground up," Ken said. "Nothing was professionally done."
The timing of the finished product was ultimately good.
"We really want to be viable for the community," Ken said. "The community connects through restaurants, but people are a little afraid to eat at restaurants. With the food truck, we can social distance. People can pick up their food and go. We try to be as fast as possible."
But the element the couple takes most pride in is the quality of the products they sell.
"Everything is fresh and made-to-order," Ken said. "Alma grew up in Mexico and our recipes and ideas are from her hometown. Her father was a butcher and they always used fresh meat and so do we."
Mr. Taco Food Truck's carnitas – a dish translating to "little meats" and originating in Michoacan – are made by braising pork in oil and adding a variety of other ingredients. Pork for that specialty, as well as chicken, steak and shrimp utilized in burritos, quesadillas and tacos are prepared by local butcher shops. Salsas, Ken said, are all homemade with fresh tomatoes.
As might be assumed by Alma's bakery background, Mr. Taco Food Truck also sells desserts; sopapillia, tres leches and chocoflan included.
After growing up in Mexico, Alma moved to San Diego, Calif. It was there where she met Tyson, originally from Flemington.
"I was a marine stated in California and stayed there doing some government contracting," he said. "I met Alma at church there."
The couple married and had four children while living in San Diego. They relocated to Clarksburg in 2015.
Tyson is now a field agent for Knights of Columbus.
To request Mr. Taco Food Truck, call the Tysons at 304-629-1143.
Editor's Note: Top/cover photo is courtesy of Natalie Hathaway, taken at Mr. Taco Food Truck's stop at Bridgeport High/Johnson Elementary.