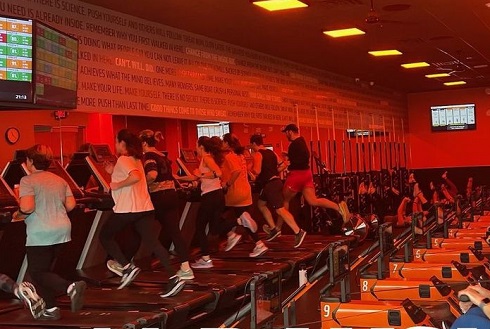 The Orangetheory Fitness concept is backed by science, utilizing technology tracking and specially-trained certified instructors to provide maximum benefits from a group workout.
After successfully operating the Morgantown business for two years, Alissa and Matt Higgins are ready to launch a new location at The Square in Bridgeport.
"Our community in Morgantown is amazing and we were told that the Bridgeport community is more tight-knit and active – such a fun group. We already had people driving from Bridgeport to work out with us in Morgantown, so we came down and checked it out," Alissa Higgins said.
They originally considered the location – the former Colours store next to Dollar General – in February of 2020. But then the COVID pandemic hit, putting that endeavor on hold.
VIP Week begins Jan. 16 with the gym opening to members Jan. 22. Using the Orangetheory Fitness app, members can sign up for one of several group classes held daily.
Higgins explained how it all works:
"Orangetheory is a one-hour full-body workout group, backed by science and tracked by technology. Everyone wears our heart rate monitor system which allows you to be on a screen and see your heart rate, so you can see how hard you are pushing," she said. "That helps coaches to help you get your heart rate up and recover. The whole goal is to get your heart rate in the top two ones for 12 or more minutes, allowing you to get the afterburn, for a longer post-workout calorie burn."
It is not high-intensity, interval training, and it is for those of all activity levels.
"This workout is for everyone. Our heart rate based training allows you to work out at your own pace. We can have three different athletes on the treadmills – a power walker, jogger, and runner, all working at a different pace and trying to get up in those different zones," Higgins said. "In Morgantown, we've had a college baseball player working out beside a 78-year-old who is training to go on a hike. They worked side by side, both crushing a workout at their own pace."
Orangetheory coaches come in as certified fitness instructors, then complete Orange Theory fitness training, a four-day process that ends in a written test and mic test.
Participating in the one-hour class can be up to 24 individuals; small groups rotating between treadmills, rowers, and weight floor.
"Everyone has their own station – their own weights, treadmill, ball, and bench," Higgins said.
The unlimited Orangetheory membership can be used in any Orangetheory gym across the country.
"You use our app and book right into those classes when you travel," Higgins said. "You would do the same workout here as in Texas and Florida."
Memberships will be sold at a founder's rate discount for the next week. In addition to unlimited membership, there is an eight-workout-per-month option.
For more information, contact Higgins at 304-982-7333.