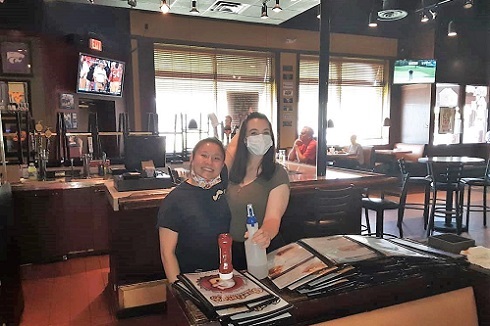 The Garfield's Restaurant & Pub brand was introduced in 1984.
"It was a concept, named after fictitious character Casey Garfield, a 19th century explorer who traveled the world and drank beer from different countries," said Bridgeport Garfield's General Manager Kent Sparks.
The family-friendly, full-service restaurant became known for its staple items, including steaks, ribs, pasta, salads and, of course, the Casey's Blackened Cajun Burger. The pub a popular hotspot for its beer varieties, margaritas and other signature spirits.
Garfield's was established in 1996 at Meadowbrook Mall. It was Bridgeport native Hal Sickles who brought the franchise to our city. Like locations across the country, the mall-based restaurant thrived and has continued to do so over the past 24 years.
"We're definitely a family restaurant – and that's our goal," Sparks said. "About 93 percent of our sales are food sales and alcohol accounts for the other seven percent. We have cartoons playing on one of our TVs all day long, we have princess night once a year and 99-cent kids' meals every Sunday."
In addition to atmosphere, Sparks credits a solid menu for the restaurant's staying power.
"We're really consistent. We offer tender steaks and fresh, hand-pressed burgers, Cajun pasta and stuff like that," he said. "We've had triple dippers on the menu for 20 years and they're still popular today."
Though many of the original food items remain on the menu, there has been changes in the restaurant over the years.
Shortly before Sparks came on board in Bridgeport in 2013, there were some minor renovations and theme updates.
"They put in new booths and took down the antiques, creating a more conservative approach," he said. "They were slowly renovating all the stores, one at a time."
As time marched on, the mall was busy and so was the restaurant. That good fortune continued until March of this year when the COVID-19 pandemic hit.
"We closed for about a month to clean and sanitize the restaurant, making sure it was perfect, and opened back up with limited seating," Sparks said. "Three to four weeks before shutting down – and after we first opened – we just offered take-out."
As more mall stores open – including major retailers JC Penney and Marshall's – restaurant business is picking up, Sparks said.
He also credits the restaurant's longtime success to loyal, longtime employees.
"We shut down for a month and really missed the people. They are good people who care about their jobs," he said. "It's a good chemistry here. Everyone gets along and cares about what they are doing."
Bridgeport Garfield's employs about 25 people, though it is carrying a slightly lighter staff at the present time.
The restaurant chain started in Oklahoma by Jim Burk and Vince Orza. It spread across the east coast in the mid-1980s – at one time including 70 stores across the U.S.
"But the retail apocalypse that takes a toll on malls has slowly closed a lot of those stores," Sparks said. "Garfield's is a mall-based restaurant and malls aren't the thing they used to be. They're looking to open some different stores, keeping some menu items the same and introducing some new ones. In this area, they may reopen the store in Morgantown, and they are thinking about branching out and getting into strip malls, as well as some free-standing restaurants."
Thanks to the local loyal patrons, the Meadowbrook Mall location has to date remained a success.
Editor's Note: Photos, courtesy of Garfield's, feature the storefront, employees sanitizing and spaced-out seating as required by state guidelines.