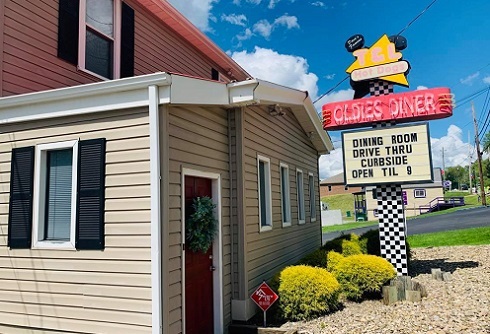 A 200-square-foot hotdog stand – located in the front of a Main Street sign shop – has grown into a full-blown restaurant venture with six locations.
Situate along Bridgeport's Main Street and at Meadowbrook Mall – as well as in Clarksburg, Shinnston and Weston – Dave's Famous T&L Hotdogs has become a three-generation family business. Their signature hotdogs with homemade chili, angus burgers, fresh-cut French fries and piled-high salads are popular menu items of the '50s-style diner-themed eateries, all owned by the Henderson family.
Mike Henderson, son of founder Dave Henderson, remembers T&L's 1984 beginnings. Preceding that business venture was Reeder Sign Shop, located in the West Main Street building now occupied by The Dairy Queen.
"We made small signs for hospitals and small businesses. We even made the license plates for the 1979 Bridgeport Indians State Championship team," said Henderson about the sign shop, previously owned by Kermit Reeder. "My dad was a good businessman and he made contacts in the late-1970s building that brand and that gave him the bug of entrepreneurship."
In 1983, Dave Henderson met Ted Nash, who operated a T&L Hotdog shop in Lewis County. Henderson decided to give that idea a go in Bridgeport.
"So, we put a little carry-out hotdog shop
"So, we put a little carry-out hotdog shop in the front of our sign shop and it "So, we put a little carry-out hotdog shop ended up blowing up," Mike Henderson said.
Soon came stores in Nutter Fort and Philippi. Mike and his older brother Scott, BHS graduates of 1982 and 1980, respectively, stepped into the business.
"Dad was gung-ho. Hot dog stands started popping up all over the place in the 1980s," Henderson said.
The Hendersons bought out the Nash family, taking sole ownership of T&L. Many of those original stores have been sold and some have closed.
The six owned by the Hendersons – tagged Dave's Famous T&L Hotdogs – include East Main Street, Bridgeport, owned/operated by Dave and Barbara Henderson/Scott and Joyce Henderson; Meadowbrook Mall, Old Bridgeport Hill and Rosebud Plaza, Clarksburg, owned/operated by Mike and Beverly Henderson and daughter Kristen Bass; Shinnston and Weston, owned by Mike and Beverly's daughter Corey and her husband Troy Rutherford.
The restaurants all feature the retro '50s theme, also the brainchild of Dave Henderson.
"Back in the early '80s – like every other small business around town back then – our theme was Home Interior with random pictures on the walls. We wanted something unique and thought about a sports theme," Mike said. "My parents spent the winters in Florida, and they came upon an area that was all themed out in '50s and '60s. He called me and said he had an idea."
Like the hotdog stands themselves, the vintage theme took off with the Henderson's stores all featuring the new theme.
"It was fun. We did a lot of antique shopping. We'd pack the kids up in the motor home and head to Indiana where there's an antique mall as big as Meadowbrook Mall," Henderson said.
"And people started bringing us stuff they found in their attics or where their grandma died and they found a cool pop bottle collection."
The pop culture atmosphere evolved into car cruise-ins at Rosebud Plaza.
"We do cruise-ins every Saturday night. We always have outdoor music and five times a year we have a band," Henderson said. "People come in their '65 Corvette, '69 Camaro or '79 Trans Am. They pop their hoods and get out their lawn chairs, come in and eat or just listen to music and hang out with their buddies."
There are no restrictions on vehicles This year is the 25th anniversary of the Rosebud Plaza cruise-ins. The events are also now held at the Weston location.
The hotdog has also come a long way throughout the years. In addition to the classic chili dog, Dave's Famous T&L also offers Chicago style – an all-beef frank with mustard, onions, relish, tomatoes, peppers, celery salt and pickle – and the New York style – an all-beef frank with mustard, grilled onions and sauerkraut.
The second most popular item is the black angus hamburger/cheeseburger, but the wraps and grilled chicken salads – all served with homemade dressings and sauces – draw customers as well.
As the year 2000 rolls in, Dave's Famous T&L Hotdogs is becoming a fourth-generation business. Henderson's teenage grandson asked to come on board.
"I think my dad had the vision for all of this," Mike said. "As a parent and grandparent, all you want is for your kids to be successful."