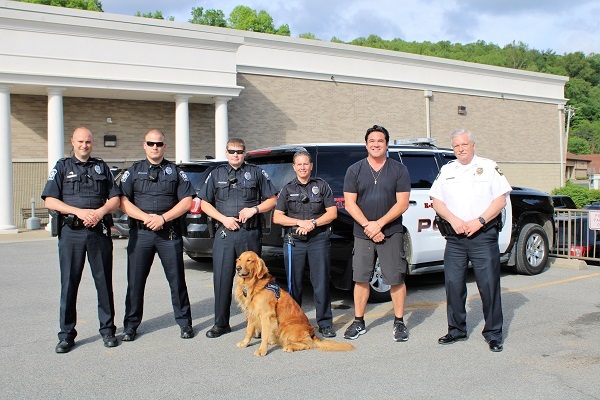 Fresh from LA, actor Dean Cain made his rounds in Bridgeport and Clarksburg Friday morning. Cain, who has spent plenty of time in the area making movies with JC Fims, is also a reserve police officer with Idaho's St. Anthony Police Department. He knows and appreciates the efforts and sacrifice of law enforcers and during this time of pandemic, wanted to thank them, as well as the courageous members on the medical front lines.
"It's been really interesting talking to people on the front lines, seeing what they are going through and thanking them," Cain said. "It's a whole different thing out here in West Virginia than it is in California and for me, it's an interesting perspective."
All of these first responders and hospital workers are true heroes, Cain said.
After donut deliveries to the Bridgeport and Clarksburg Police Departments, Cain went on to United Hospital Center to drop off pepperoni roll lunches to medical personnel.
The gesture was timely and boosted morale.
"Dean's visit was most welcomed today," said Bridgeport Police Chief John Walker on Friday. "He is a very down to earth person and an avid law enforcement supporter. He has done a number of movies in Bridgeport and oftentimes used our station, equipment and officers in the movies. Many of our officers and administrative staff was on hand this morning to greet him and accept a morning snack from him. We appreciate what he did."
Members of the administrative staff sported Superman attire – including capes – in tribute to Cain, who for many years starred in "Lois & Clark: The New Adventures of Superman." Even Connor the police dog suited up in his superhero best.
The Clarksburg Police Department gifted Cain with a police T-shirt and cap. While at Clarksburg City Hall, Cain was introduced to City Manager Harry Faulk, City Clerk Annette Wright and a number of other municipal personnel.
The visit boosted spirits, said Assistant Police Chief Randy Hartley.
"Dean is a huge supporter of law enforcement and we were honored that he took time out of his day to bring some food and visit with our officers and the city staff," he said. "He is genuine and a down to earth person and for him to stop by and thank us for our service shows what kind of guy he is."
Friday's series of visits, which also included events in Shinnston and Morgantown, were coordinated by Jason Campbell, president of JC Films. Walker and Hartley also extended their appreciation to him.
Food was donated by Walmart.