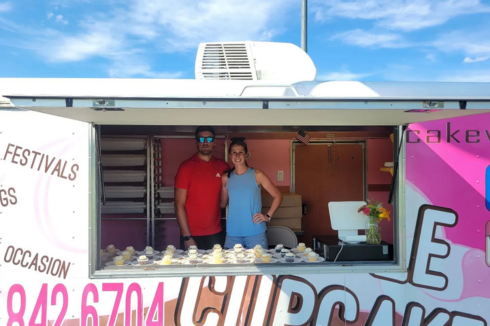 After serving up gourmet cupcakes and other sweet treats for nearly a decade, My Little Cupcake has decided to close its doors at 142 West Main Street.
"We would love to say thanks to the community for all of the support throughout the years. We couldn't have done it without everyone's support," said Kaycee Crislip, who owns the business with her husband Frank. "Our family is truly appreciative. It's just time for a new chapter in our life."
The Crislips started MLC with a table and canopy at Bridgeport Farmers Market in 2014. In February of 2015, they opened their first storefront in downtown Clarksburg. They added a trailer to the business in 2016 and in 2018, moved to West Main Street, Bridgeport. Through the years, they have also been raising their children.
"Our kids are getting older and time isn't slowing down," Crislip said.
Though the storefront will be closed, the family plans to keep the trailer and looks forward to popping up at area events with the cupcakes that have become so popular. Among flavors are Pina Colada, S'mores, Salted Caramel, Funfetti, Brownie Bite, Marble, Rocky Road, Chocolate, Vanilla, and a host of others, including gluten-free options. MLC has also been known for its cinnamon rolls, pepperoni rolls, macarons, brownies, and cinnamon & sugar donuts.
Today is the last day of operations on West Meet Street and the store will close when sold out.
The Crislips said it has been a pleasure to serve the community.
"The past decade has been filled with so much fun, positivity and success. We have met more people than we could ever imagine and we will cherish every single relationship that has formed," Crislip said. "We have been honored to be a part of so many special occasions – especially the yearly birthday parties."
To their customers, the Crislips say:
"You have made MLC successful. What a community we've been a part of!"