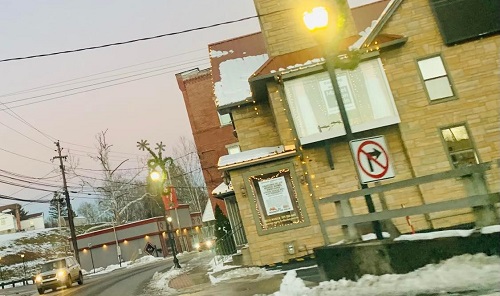 Though many of the same artisan works will be featured, the vendor market at 103 West Main Street (formerly Babe & Honey) is under new ownership and management. Teaming up on the new business venture is Leslie Toothman and Perris Reed.
"We will have a different format, not charging rent, but commission only. We'll be able to curate the space ourselves, do our own displays, etc.," Toothman said. "The redesign will allow space for three times as many vendors, so we'll stay nice and stocked."
Market on Main will open its doors Saturday, Feb. 5, but will offer a sneak peek next Saturday, Jan. 15.
"We're calling it the Saucing it Up Superbowl Pregame," Toothman said. "We'll have pop-up shops featuring some of our vendors and we've invited local sauce makers to come and offer samples."
Those sauce makers include Greg Bee of Clarksburg and Larry's Awesome Sauces of Fairmont, as well as Bridgeport's Cody Thrasher and Oliverio's Ristorante.
"We'll have items like popcorn chicken and pretzels, so people can sample the sauces," Toothman said.
The South Texas Barbecue food truck will be on hand, as will singer/guitarist Nat Frederick. The event will be held 12-4 p.m., with Frederick performing 1-3 p.m.
Once officially open, Market on Main will offer a wide variety of quality artisan wares, from hand-sewn baby clothes and needlecraft items to pottery, hand-crafted soaps, jewelry, woodcrafted furniture to organic foods.
Other features of Market on Main include an artist of the month.
"We'll have an open house at the beginning of each month to honor that artist, who will be set up with her easel in the display window.
February's artist is Brooke Jewell, who will also paint a mural for the market.
Market on Main will also host a book club, as well as workshops, some – such as terranium and propulgation classes – hosted by Toothman's other business, Roaming Roots Plant Shop.
Among artisans on board with Market on Main are Three Marie Artistry (crochet animals, baby items), North Fork Jewelry Design (crystal and fine stones), Milo Muffins gourmet dog treats, Mo Baby handmade baby clothes, 18th Avenue, Appalachian Curated, Golden Rose Creations, 310 Soap Company, Florence Pottery, Siren Pottery, Kopp Design Shops, Sigley & Sawdust, Mountain Mama Magic and many more.