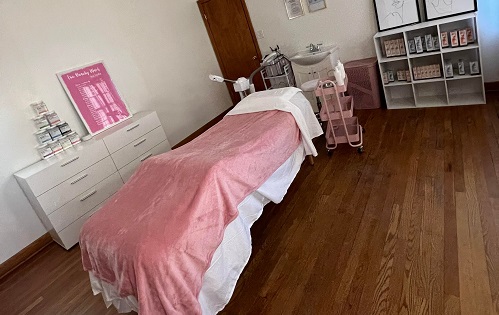 Encompassing facials, body scrubs, waxing, spray tans, microneedling and more, The Beauty Ward on Bridgeport's West Main Street is a dream come true for 21-year-old entrepreneur Madison Ward.
"I have always had a passion for all things beauty," she said. "Ever since I was a little girl, I loved playing in makeup, doing my hair and putting cucumbers on my eyes AKA 'having a facial' – just being a total girly girl!"
As she grew a little older, Ward discovered another passion: Inspiring confidence in others.
"Insecurity was something I had a really hard time with in high school and I knew that one day I wanted to do something that would encourage others to feel beautiful," Ward said. "This career combines my passions perfectly."
After graduating from Bridgeport High School in 2018, Ward attended Fairmont State University, where she obtained a bachelor's degree in business. That same year, she launched Miss Morelle Boutique, an online women's fashion store. She planned to one day open a brick and mortar store. Yet, she felt she was missing something.
"During my last semester of college, I talked to my friends and they were the ones who mentioned esthetics to me," she said. "Truthfully, I hadn't really thought of it before, but as soon as it was mentioned, I knew that was what I was going to do."
After obtaining her college degree in just three years, she went on to esthetician school. Ward will offer hydrofacial, microdermabrasion, seasonal hot cocoa facials, basic and express facials and more. Joining Ward at her studio is Hannah Spurlock, who will be offering eyelash extensions.
Ward will utilize the Glymed Plus medical-grade skincare line for her services and will sell the products, too. She said she did much research to select just the most effective products. She will also offer for purchase pieces of her Miss Morelle Boutique line. 
Creating a comfortable, accepting atmosphere has been Ward's focus in opening The Beauty Ward.
"I want everyone who walks through my door to feel safe and cared for," she said. "I want my clients to be excited, have fun and also relax!"
Opening her business in her hometown makes it even more special, Ward said.
"It seems like everyone always wants to see a local small business succeed. Being able to do what I love and having my hometown as my biggest supporter overwhelms me with joy," she said.
The Beauty Ward opened Jan. 3 in the Chandler Building at 147 West Main Street. Hours are 9 a.m.. through 6 p.m. Monday through Saturday, but after-hours appointments can be made by calling 304-844-0925. Follow The Beauty Ward on Instagram.