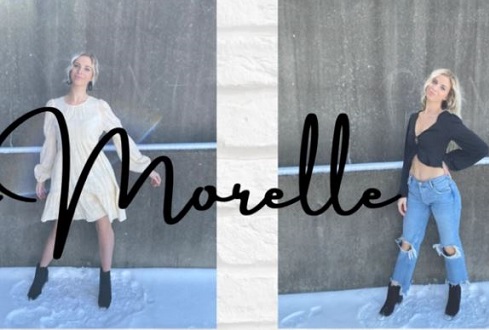 With just one more full year of study before receiving her undergrad in business, Bridgeport's Maddie Ward has already sprung the clothing boutique she has been dreaming about.
.
"I couldn't wait," said Ward, a junior at Fairmont State University. "I am so excited to be running this business earlier than I expected, and I appreciate everyone who has supported me in the process."
Launched earlier this month was Miss Morelle, an online shopping site featuring casualwear pieces hand selected by Ward.
The blouses, pants and outwear are mix and match separates that offer fashion appeal at an affordable price point. It's important to Ward that her style-savvy peers are able to purchase pieces they love.
"There have been so many times that I found a piece I love on Instagram, go to order it and it is WAY out of my budget," she said. "I know what it's like to be a high schooler and/or a college student who loves fashion, but feels like they can't afford to keep up with the latest trends, so I want to help fix that problem for as many girls as possible!"
From Jaryn's Puff Sleeve Sweater Top to A Little Bit Alexis Crop Top, the pieces are versatile, pairing well with jeans, shorts or skirts. Victoria's Baby Doll and Sharpay's Sweater dresses can likewise be dressed up or down.
"When picking out inventory I make sure that it's not just something I love, but something the girls shopping my store will love too," Ward said. "I tend to pick out more trendy pieces, but also remember I need some timeless and more casual options in the boutique as well."
Ward said she is passionate about her career choice and strives to instill self-confidence in women by outfitting them in attire they feel good in.
"My mission isn't only to deliver each of you the cutest clothes, but for you to feel like a bombshell when we put them on," she said. "Sure, I have goals to reach when it comes to business, but there is one goal I am after more than any other. My biggest goal is to use this boutique to spread self-love and empower every single person who comes across my store."
Coming up with a name that carried Ward's passion and mission wasn't an easy feat. "Morelle" is play on her own middle name and the middle names of her two nieces.
Ward said she is thankful for the support and positive feedback she has received.
"It warms my heart to see girls posting on Instagram about how much they love their new clothes," she said.
To date, Ward has purchased her apparel items from wholesalers via the internet. She plans to soon attend markets in Atlanta and/or Vegas. Also on the horizon is the addition of shoes, jewelry, handbags and other accessories.
Pictured top/cover is Maddie Ward, owner of Miss Morelle. Also pictured is fried/model Jaryn Dodrill.