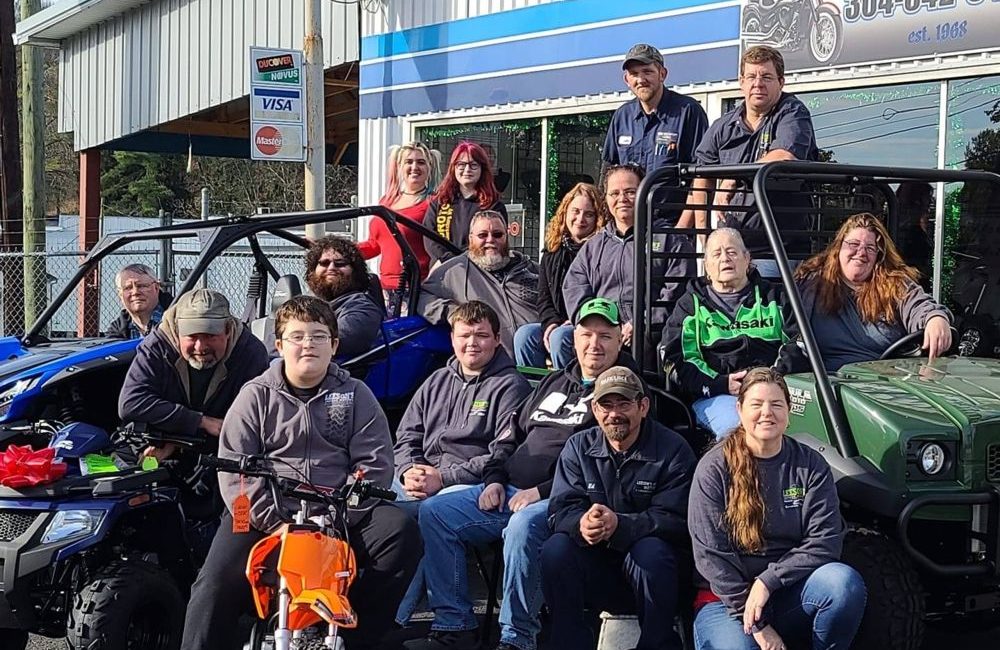 Those who were into the Suzuki GT750 might remember Leeson's Import Motors moving into its West Main Street storefront. That was in 1970, but the history of the family-owned retailer dates back much further.
It all started in the 1930s when Paul Leeson started a motorcycle shop out of his house on James Street, selling Harley Davidson and Triumph bikes. During the '40s, the shop was relocated to Route 50 in Adamston, operating into the '50s when Leeson retired.
"Our grandfather loved motorcycles and it is just in our blood," said Shawna Merrill, current sales manager. "Once you have ridden a motorcycle, it gives you such a sense of freedom. There is nothing else that makes you feel the way you do when you are riding."
In 1968, Leeson's daughter Janice and her husband Sam reopened the shop, then called Clarksburg Suzuki Sales. Just two years later, Leeson Import Motors came full circle when it returned to Bridgeport. Four generations and many members of the Leeson family have been part of the operation which today carries a variety of power sports vehicles and accessories.
"We sell Suzuki motorcycles and ATVs, Kawasaki Motorcycles, ATVs and side-by-sides, Kymco scooters, ATVs and side-by-sides, Arctic Cat ATVs and side-by-sides and SSR Pit bikes, off-road motorcycles, youth electric ATVs and side-by-sides," Merrill said. "We are a full-service dealership, offering sales, parts and service."
Through the years, there have been definite trends and sought-after vehicles. The Suzuki T20 and RM370 of the late-1960s and '70s gave way to the Kawasaki 900 Eliminator of the '80s. That decade also featured Suzuki's buy-out of the GSXRs and, of course, the ATV era as Suzuki introduced the Quad  Runner 125 and 185.
"In the 1990s, ATVs and motorcycles got bigger and faster," Merrill said. "Kawasaki built one of the largest cruisers – the Vulcan 1500 and the Bayou 400 4×4. In the late 1990s, Suzuki built the fastest stock street bike, the HAYABUSA."
As the new millennium rolled in, side-by-sides gained popularity.
"Kawasaki actually brought out the first side-by-side back in 1988 – the Kawasaki Mule – but it wasn't until the side-by-sides got a little faster that they became more popular," Merrill said. "Arctic Cat had the Prowler 650, Kymco had the UXV500 and Kawasaki had the Teryx."
Since 2010, the focus has been on off-road vehicles.
"The sport model side-by-sides are the popular vehicles right now. The Arctic Cat Wildcat XX or the Kawasaki Teryx KRX1000 are the hot models these days," Merrill said.
With 2021 featuring the selection of ATVs, side-by-sides, dirt bikes and street motorcycles – as well as helmets, jerseys, tire and roll kits and many other extras –  there is something for just about everyone.
"We currently have a team of 16 associates that work hard so you can play hard," Merrill said. "We have had Suzuki since 1968, Kawasaki since 1984, Artic Cat since 1996, Kymco since 2008 and SSR since 2016."
Leeson's also special orders parts and ships. Ordering is available through the dealership, as well as online at either
leesonsmotors.com
or leesonsatv on Ebay.
Leeson's Import Motors is located at 320 West Main Street and is open 9 a.m. to 6 p.m. Monday through Friday and 9 a.m. to 4 p.m. Saturday.