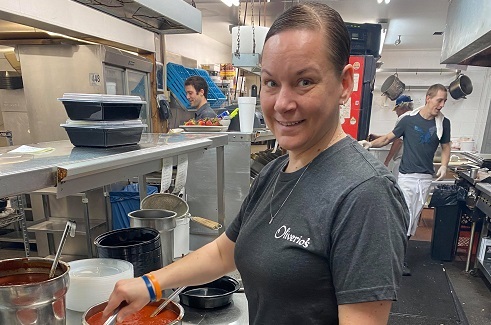 Some may call her a chef, but Bridget Brown is indeed an orchestrator.
For a decade-plus, she has worked behind the scenes at Oliverio's Ristorante. She is seasoned expert in working the grill, saute and appetizer stations. But typically, she "runs the line," essentially coordinating kitchen activity and the delivery of plated food to restaurant patrons.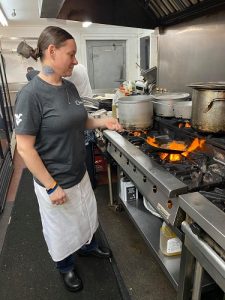 "Bridget has been an outstanding employee here at Oliverio's for countless years, having one of the hardest jobs in our kitchen which is to expedite everything that is going on – on our whole cook line," said Petrina Oliverio. "She has a lot on her shoulders, and it can be very stressful."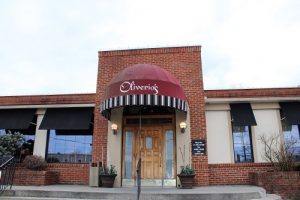 It was Petrina Oliverio who hired Brown 12 years ago when she worked for Tudor's Biscuit World.
"They had an ad in the newspaper, and I had always wanted to work there. It's a good family-owned business," Brown said. "I went in, filled out an application and Petrina hired me on the spot."
Brown initially made those famous Oliverio's salads, moving on to appetizers, which also included the making of salads and hoagies. She then moved on to the grill to prepare steaks and seafood entrees and ultimately took over the line, overseeing five other cooks – all men.
It's an intricate process.
"The ticket that comes into the kitchen has everything people at a certain table want. The server takes out salads and I try to give her sufficient amount of time, then I call the table, and everyone works together putting in whatever they have. When you run the middle, you also add all the pastas."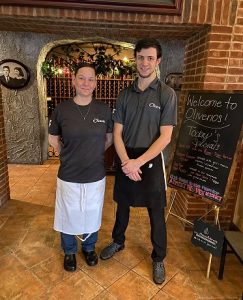 It can become quite hectic, especially on busy nights, Brown said. The kitchen staff may run 10 tables at a time.
"We're not only dealing with dine-in people, but also take-outs," she said. "It can get a little overwhelming at times."
Efforts are always made to serve foods as quickly as possible, but on nights like that, the wait may be a little longer.
Brown said some of the most popular entrees include the 10-ounce filet topped with blue cheese, mushrooms and crab meat and 10-ounce filet with shrimps, scallops and peppercorn sauce. Appetizers on highest demand include angel hair crab balls, oyster Rockefeller, banana peppers and stuffed mushrooms.
Brown said she loves the diablo and pizza, but everything on the menu is good.
"I believe we have very good food. All the sauces and bread are homemade. There's a lot of love that goes into al the food here," she said.
Though she works behind the scenes, Brown has made a name for herself at Oliverio's. Patrons often send her their complements or ask to deliver them in person.
"That really makes me feel good to hear I'm doing a good job," she said.
Brown said the Oliverio family has become like family to her. Petrina Oliverio said the feeling is mutual.