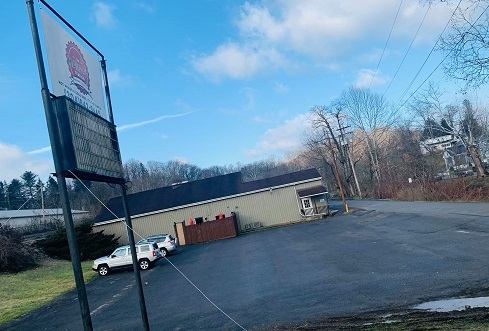 A long line of restaurants and bars preceded it: The Whistle Stop, Alvaro's Pizza, The Precinct and Blue Crab Inn, to name a few.
But for more than 25 years, the Railroad Street building – located in the heart of the city's former "Industrial" section – has been home to Main Street Station.
In addition to an icy cold glass of beer, patrons can enjoy chicken and steak hoagies, cheeseburgers, hotdogs and wings in an array of flavors – 14 different flavors, in fact. There's the Regular Hot and Honey Habanero to the even hotter Texas Heat and Voodoo Wings, as well as varieties for those who favor garlic, Cajun and other flavors.
Open seven days per week, Main Street Station is frequented by people of all ages. They gather to play bingo, Keno and video lottery machines, shoot pool, throw darts, play tunes on the jukebox, listen to live music, sing karaoke and watch WVU and pro sports.
"The games do bring people in. We watch the Mountaineers, the Steelers – and all of it," said Co-owner Jodi Mullenax, adding that the Station is equipped to show games televised on all cable TV stations, as well as ESPN+ and other apps.
Musicians who frequent Main Street Station include Greg Harrison, Crimson Reign, Johnny Bryan and Aaron Henry, among others.
The restaurant/bar accommodates about 60 inside in addition to seating available on the heated, outdoor deck.
The success of Main Street Station, Mullenax said, is partially due to a quality cooking and serving staff.
"I have seven employees, some who have been with me for years and years," she said. "I just have the best employees. I have 20-year-old autistic son, so I can't be here like I would like to be, but I can trust them to help me out."
The other reason the longtime establishment is successful is due to a supportive community. Mullenax said it's rewarding to her and her husband Matthew to own a place where so many people gather to have fun.
Like the building, the business itself has an interesting history, which goes back to the days of Exciting Irene's, located on Main Street. After the death of bar's namesake, a daughter – Jeanie Lockhart – took over operations. Lockhart subsequently sold the business to Karen Sanders, who along with her daughter Jodi Mullenax, changed its name to Main Street Tavern.
"Parking became an issue, so we moved into (the Railroad Street) location," Mullenax said. "But for a couple years, my mom and I ran both – Main Street Tavern and Main Street Station."
The new location not only had more parking, but more kitchen space and room, in general. So, the owners expanded their menu and transitioned into more of a restaurant.
With much more variety and space, a regular rotation of activities was established. In the building once surrounded by city industry fueled by railroad transportation, there is a flurry of weekly events.
Monday's hours are 3 p.m.-midnight, with bingo at 6:30 p.m. Tuesday's hours are 9 a.m.-midnight, so lunch service is available. Wednesday (wing night) and Thursday hours are 3 p.m.-midnight and again on Friday, lunch is served with doors opening at 9 a.m. It opens 1 p.m. Saturday with closing hours late on Friday and Saturday, which feature live entertainment and DJ Karaoke, respectively.
Patrons under the age of 21 are welcome at Main Street Station through 9 p.m. daily.
Throughout the year, the restaurant/bar hosts various theme parties – everything from New Year's and St. Patrick's Day to Halloween Costume and Ugly Christmas Sweater parties.
About five years ago, the owners did some remodeling and replaced floors and tables, among other upgrades. They look forward to continuing their journey at Main Street Station.
"Opening a bar was my mom's dream," said Mullenax about Sanders, who passed away in 2018. "Everybody loved her so much."
Editor's Note: Pictured above are Christi Corathers, Jodi Sanders-Mullenax and Jami Sanders Chalfant.