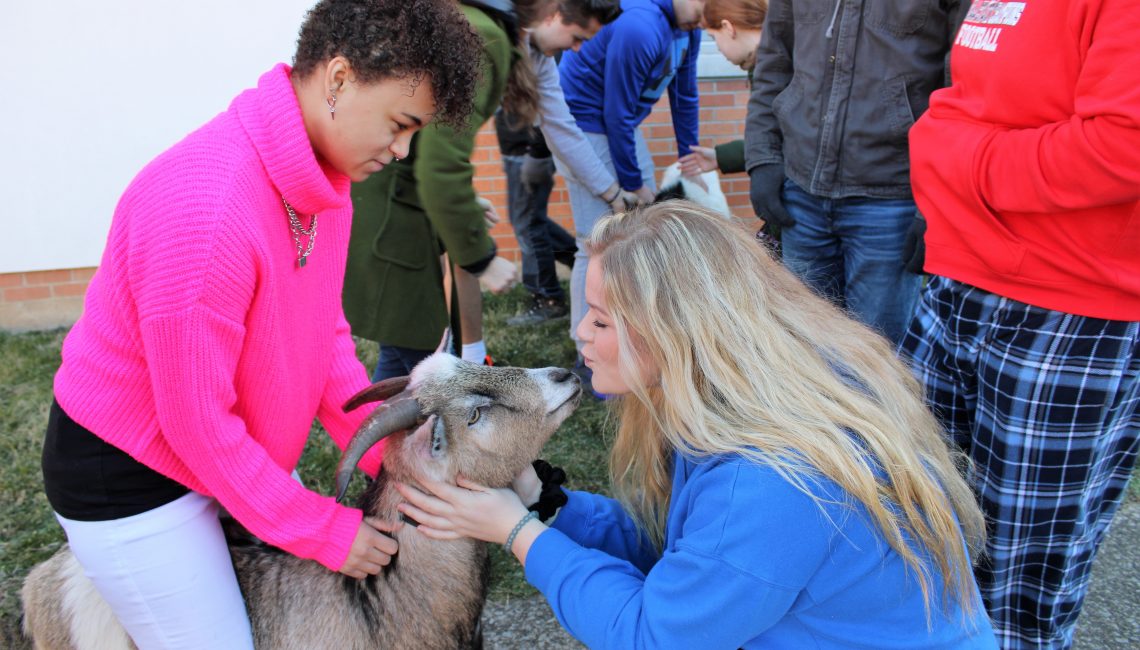 Emily Parent isn't counting her chickens before they hatch, but it's likely there are some blossoming agriculturalists at Bridgeport High School.
A senior education/agriculture major at West Virginia University, Parent is teaching three agriculture classes at BHS: Intro to Agriculture, Greenhouse and Animal Production.
"This is a very unusual situation because they didn't have a teacher for agriculture and didn't want to continue to put a substitute in the classes," she said. "That's what my degree is in, so while I'm doing my student teaching, I'm also the teacher."
Parent started in her post at the beginning of the second semester and hit the ground running. The program already has a working greenhouse where tomatoes, dill, oregano and cilantro are growing and flowers – petunias, marigolds, zinnias and begonias – will soon be added.
The animal production students are getting plenty of hand-on experience too. They are incubating chicken eggs and await the hatching of seven little chicks. They are also helping to raise a baby goat.
"We are learning how to manage a herd of goats and how to take care of them and what type of environment they need to live in," Parent said. "Every day, the kids come to class excited, asking where the goat is. She is just seven days old and was brought in by a student who lives on a farm. The mother goat had abandoned it."
"Peach," born on Valentines Day, sometimes sports a tutu. As the students learn about goat species – American Pygmy, Alpine and Nigerian Dwarf goats, included  – they pass Peach around the room. She is clearly the class mascot.
Friday, Albani St. Martin Brown – wife of BHS theater teacher Jared St. Martin Brown – brought a pair of goats in to assist the students in learning how to perform health exams.
It's been fun and students have been providing positive feedback.
"Some of the kids tell me they didn't even sign up for an ag class, but they needed an elective and just got thrown in here," Parent said. "But they tell me now that they are in it, they really like it."
She relates. Raised on farm in Raleigh County, she grew up with beef cattle, horses, goats and chickens. She went off to college aspiring to be a veterinarian. But time and experience changed that. Her passion evolved in a different direction.
"Because of my agricultural advisor and teacher, I fell in love with agriculture and realized that pre-vet wasn't where my heart was," she said. "I wanted to teach agriculture and make an impact on students' lives through agriculture."
Parent said the BHS administration and her fellow faculty members have been so supportive and helpful in assisting her with her goals.
When she came in December for her interview with Principal Matt DeMotto, she asked if the greenhouse – which had already been purchased and was on site – could equipped with heat. By the time she came on board, that happened. She then worked with maintenance to build tables.
By May, the greenhouse will have produced potted flowers, herbs and tomatoes which will be sold to the public, just in time for Mother's Day. Shortly thereafter, Parent will graduate from WVU and be officially ready to teach, already with some valuable experience.
She is certainly an asset to BHS, said Assistant Principal Renee Mathews.
"I believe Ms. Parent is so beneficial for our students because of the real-life experience she is bringing to them from the ag world," Mathews said. "It is just amazing for them. She is teaching them true lifelong lessons."
Mathews' enthusiasm about the program seems contagious and it is hoped it will spread throughout the school, opening eyes to new opportunities.
"We hope her enthusiasm about FFA and agriculture overall encourages more students to try classes and especially different aspects of life that they really didn't know about."