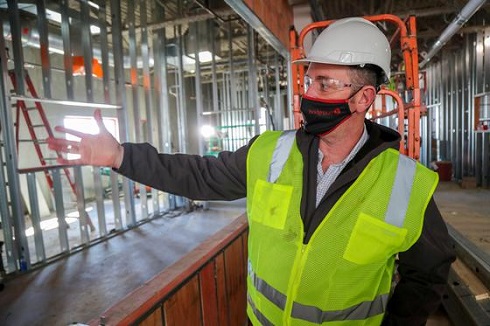 The nationally-distributed Sports Travel Magazine recently named the 15 new sports venues to watch in 2021 and "The Bridge" made the list.
,
"It's certainly a neat thing when you look at the facilities, we're grouped it shows we're doing something significant," said Joe Shuttleworth, the director of Bridgeport Parks and Recreation.
Major cities such as Austin, Texas and Cincinnati, Ohio were also named.
Here is what the article says about the City of Bridgeport's $50 million indoor sports and recreation facility.
"The Bridge is an indoor/outdoor, 156,000-square-foot, three-story venue. It will consist of six hardwood basketball/volleyball courts, a family entertainment center, an indoor aquatic with 25-meter competition pool, a fitness center, one indoor turf field that
measures 40 yards by 70 yards, an indoor climbing facility, one outdoor turf field, as well as meeting rooms for special and group events. The SFM-operated complex will be located in a region where the community is focused on hosting local and regional tournaments."
Shuttleworth said the city has been fortunate to stave off a lot of issues many have faced during the pandemic.
"Obviously, we're very pleased to see this and have been very fortunate in the COVID landscape that we didn't get shut down or pretty much slowed down," said Shuttleworth. "There were no major financial issues to deal with as well that allowed us to continue on the path toward opening."
Shuttleworth said once it is open, people will see why it is drawing national attention He said he believes it is going to benefit the entire area.
"It's a unique facility, especially for this region and the impact will be felt locally and throughout the region. The nice thing is that we're going to draw local people and travelers and we're going to be able to promote Bridgeport, the region, and the state," he said. "This is certainly a nice thing to see in this article to let us know others see what we're doing."
Click 
HERE
 to read the entire list from the magazine.
Editor's Note: Top photo shows the architectural rendering of The Bridge, while Parks and Recreation Director Joe Shuttleworth is shown on the cover in a photo by Ben Queen Photography.