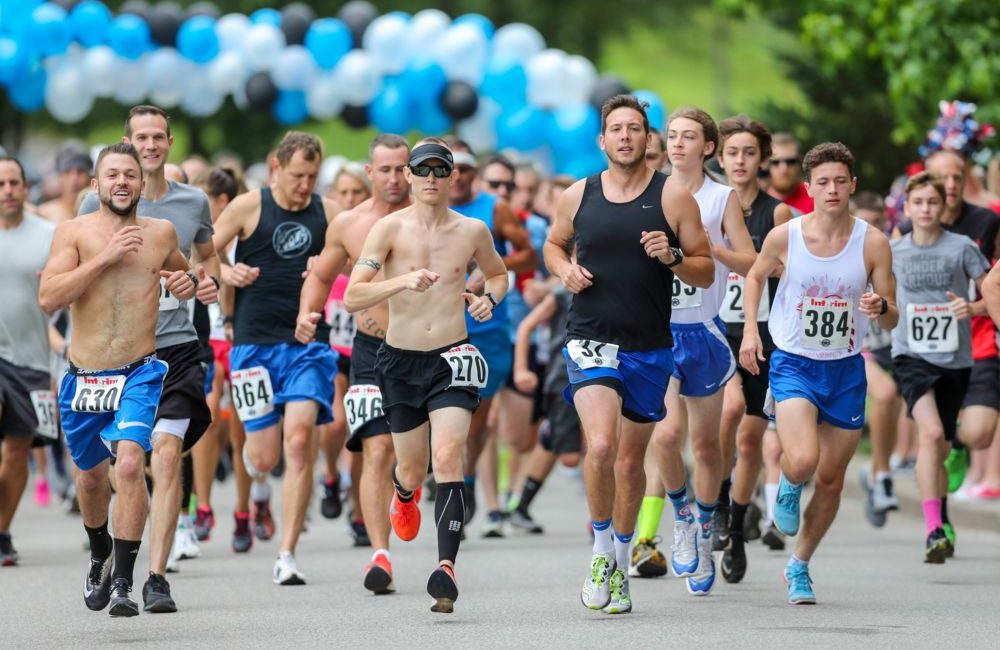 The race is on.
On Sat., June 12, The Derek Hotsinpiller Fallen Stars Memorial 5K Run will once again take place in Bridgeport, along the very same route where Deputy U.S. Marshall Derek Hotsinpiller used to train.
Since he died in the line of duty in 2011, supporters have gathered to run in honor of all law enforcement; those serving, retired, and lost in the line of duty.
"We run in honor of their service and sacrifices," said Organizer Ashley Hotsinpiller.
The year 2020 would have been the 10th anniversary of the event and organizers were hoping to draw a record number of participants. But due to the COVID-19 pandemic, the race was held virtually. Hundreds registered and ran their own 5K courses, which was deeply appreciated, Ashley Hotsinpiller said.
But being able to hold this year's race in person means so much to organizers and participants alike.
"It humbles my heart to see so many people from such a small community come together to honor Derek and the sacrifice he made, support the Hotsinpiller family and show their gratitude to the law enforcement community in general, said Amy Maxey. "Look around, this isn't happening everywhere. Bridgeport is a wonderful caring community and we are all together again for this year's run!"
Participant Amy Stewart said the race has always meant showing respect and love to a family who gave so much.
"I've run every year and even if a year comes that I can't make it, I still plan to sign up to show my support," she said.
Shawn and Tim Morgan have also run the race each year.
"The first year, we ran virtually with a group from Bridgeport United Methodist Church in Nashville, where we were on a mission trip," Shawn Morgan said. "We ran the virtual race last year on race day and it was so heartwarming to see other people out on the course, even though we all were keeping socially distant."
It was – and is – important to remember Derek and honor the service and sacrifice of those in law enforcement, she said.
Registration is open through June 4 
HERE
. The online registration fee is $20 and includes an event T-shirt. Packet pickup will be 7-8 a.m. at Bridgeport City Park on race day, followed by an 8 a.m. pre-race ceremony. The race will start promptly at 8:30 a.m., leaving City Park and winding through the streets of Bridgeport and back to City Park, where awards will be presented in various age/gender categories.
Running or walking the 5K virtually is still an option.
"Our goal is to have at least one virtual runner in every state, so if you know someone in a different state, we ask that you encourage them to walk or run with you," Ashley Hotsinpiller said. "You can sign up on the registration page as a virtual participant and there's no fee for that, but if you want a race shirt, you can pay the registration fee and we will ship you a shirt. All those options are on our page."
Always popular and drawing contestants regionally is the Law Enforcement Officer "LEO" and challenge. Two-man/woman teams compete for those bragging rights.
The race raises dollars for the Jim and Derek Hotsinpiller Memorial Scholarship, presented annually to multiple area students pursuing education in criminal justice/social science.
Deputy U.S. Marshal Derek Hotsinpiller received a fatal gunshot wound while serving a warrant in Elkins on Feb. 18, 2011. His dad Jim passed in 2001 during his tenure as lieutenant with Bridgeport Police Department.
Showing support to law enforcement is a privilege, Maxey said.
"That thin blue line is sometimes all that stands between us and evil," she said. "When the rest of the world runs out, they're running in."
Ashley Hotsinpiller extends appreciation to everyone involved in the race.
"We always thank the big hitters who are always there to help make this race a success: Bridgeport Fire, EMS and Police, the City of Bridgeport and all race staff and volunteers," she said. "We are very grateful to every person who helps make this race what it is."