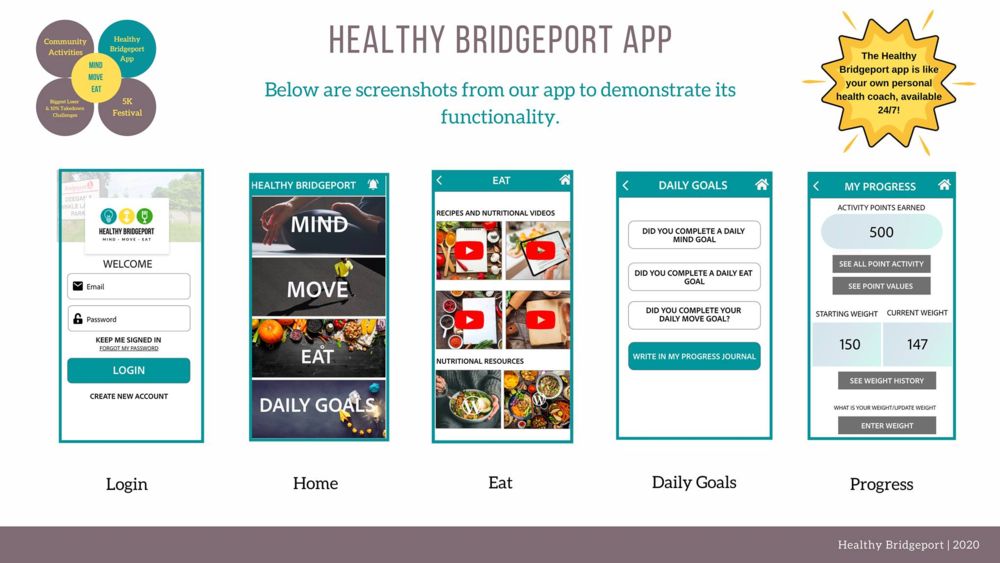 You've been hearing about it for months now. The county-wide Health Games, sponsored by Healthy Harrison, came to a dramatic close Oct. 15 when team leaders were interviewed by a board of professional judges and Team Bridgeport was named the winner.
So, now what?
As promised, "Healthy Bridgeport" is preparing to roll out a free, interactive app, developed by Clint and Ashley Aragona, owners of WV Fitness 24.
The app will encompass all aspects of health and fitness: Mind, Move and Eat, as well as track daily goals and utilization of a progress journal. Users will be able to weigh in, access recipes and nutritional tips, workouts, inspiration and more. Via participation, users can also accumulate point values which will earn prizes and keep them on the track to success.
Further into the Healthy Bridgeport journey, residents can participate in weight loss contests and fitness activities.
A team of health and fitness enthusiasts have spent many hours doing the legwork for this project, all under the direction of Abby Veigel. Abby is not only a certified holistic health coach, running coach, spin and body pump instructor, but she knows first-hand about the weight loss journey. Over the last decade, she has lost more than 100 pounds. She has experienced the deepest lows and the rewarding highs associated with the journey and she said she is excited to coach, cheer and motivate the members of our Bridgeport community.
As with all great things, this program comes with evolving progress. To kick it all off and gather useful feedback, Healthy Bridgeport is rolling out the app via a beta launch.
We look forward to working with our community and we thank you for signing the letter of support and otherwise supporting this important program. It is our hope that the app and all other aspects of Healthy Bridgeport's plan will reach all corners of our community and eventually span throughout the great Harrison County area.
Soon to come is the unveiling of a Healthy Bridgeport Web site. In the meantime, follow the
Healthy Bridgeport Facebook page
for information and updates. Invite your friends to like the page. The more followers we have, the further the information will travel.
Sincerely,
The Healthy Bridgeport Steering Committee
(Learn about members on the Healthy Bridgeport Facebook page, where you can also tell us about you and your personal goals. We are all part of the same team!)