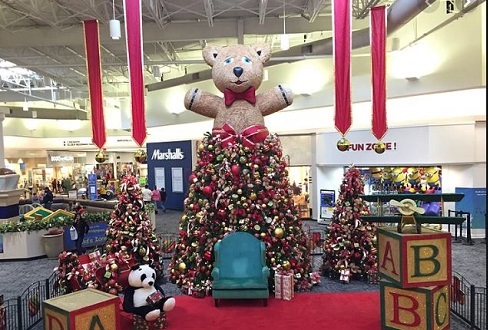 Christmas is in full swing at Meadowbrook Mall and a handful of stores are set up, offering even more options for holiday preparation and gift giving.
Marketing Director Robin Urquart advises that two new and two returning retailers have been added to the mall's collection of stores for the 2020 holiday season.
Open as kiosks are two businesses new to Meadowbrook Mall: Sudsberry and Foozys Socks.
Located outside of Maurice's, Sudsberry sells handmade bath and body products, the same artisan products available for purchase at the Sudsberry store on South 4th Street, Clarksburg.
Situate outside of Buckle, Foozys is known for its wide variety of novelty socks, ranging from animals and themes to foods and cartoon characters.
"They have a huge selection of socks – from fuzzy to novelty to compression," Urquhart said.
Go Calendars and Christmas Town are both in-line stores, located across from American Eagle and LeRoy's Jewelers, respectively. Go Calendars carries a large inventory of desk and wall calendars, as well as board games, stuffed animals, toys and other novelties. Christmas Town, as its name implies, features festive décor – some customizable – for the Christmas tree and throughout the home.
Urquhart said all seasonal stores are good fits for the mall's regular offerings and that shoppers appreciate some new options right at the holiday season.
The mall's remaining seasonal hours are as follows:
December 6 – 11AM – 6PM
December 7 – 12 – 10AM – 9PM
December 13 – 11AM – 6PM
December 14 – 10AM – 9PM
December 15 – 18 – 10AM – 10PM
December 19 (Super Saturday) – 10AM – Midnight
December 20 – 11AM – 6PM
December 21 – 23 – 9AM – 10PM
December 24 (Christmas Eve) – 9AM – 6PM
December 25 (Christmas) – Closed
December 26 – 9AM – 9PM
December 27 – 11AM – 6PM
December 28 – 30 – 10AM – 9PM
December 31 (New Year's Eve) – 10AM – 6PM
January 1 (New Year's Day) – 10AM – 6PM