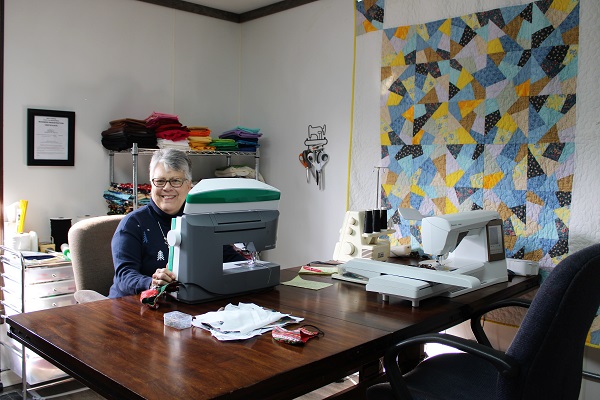 Hemming, alterations, notions and what not; it's all covered by seamstress Vickie Fahey at her new West Main Street business, "Sew What LLC."
The Marshville resident and lifelong sewing enthusiast is located at 103 West Main Street, in the same building housing The Starving Artist and The Sanctuary.
In addition to sewing services, also including button and zipper replacement, Sew What offers custom embroidering.
The shop also carries an inventory of giftable items.
"We have kitchen towels, oven mitts, towel ladies, garbage bag holders, dog bandanas and aprons – even 'Mommy and Me' sets," Fahey said. "We can make about anything."
Among popular items are the memory bear and memory quilt, both crafted of the clothing items of lost loved ones. The items make special gifts and keepsakes, Fahey said.
She is excited for her new business venture, sharing a craft which began when her grandmother taught her to sew on a Singer treadle sewing machine. It all started with a little girl's fascination with buttons.
"I always played with her button box. I'd sit by the hours sorting and playing with the buttons," Fahey said. "I wanted to make doll clothes for my Barbie dolls and my grandmother started showing me how to make little things."
After accomplishing the treadle machine – which she still has, by the way – Fahey went on to learn how to operate her mother's electric Singer sewing machine.
"I started sewing outfits for me and then for my children. I even sewed for the neighborhood kids," she said. "I've sewed pageant dresses, wedding dresses and suits."
Having recently lost her husband, Fahey decided to step out in faith and start her first business.
"I found this little spot here, so I opened it up," she said.
A ribbon cutting marked the store's grand opening Tuesday afternoon. Fahey's family members, Co-owner of The Starving Artist/Sanctuary Amanda Leaseburg and representatives of the Harrison County Chamber of Commerce attended.
Sew What is open 10 a.m. through 6 p.m. Tuesday and Thursday and by appointment Monday and Friday. Call 304-669-6423.
Residents are encouraged to call to request unique sewing services, including the recovering of outdoor furniture.
Fahey is quite pleased with her store and her Bridgeport location. She said being in business for herself is a dream come true.
Sew What LLC is located on the main floor of the building and has its own entrance just off the back parking lot or shoppers can enter the front door of The Sanctuary, where some of Fahey's items are displayed.