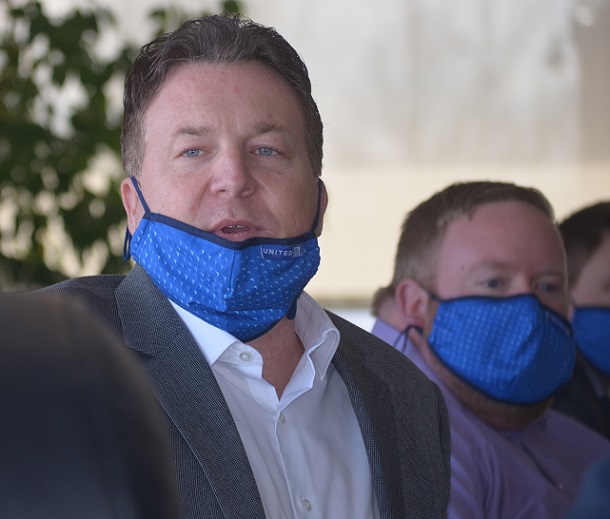 After a record year for passengers, the North Central West Virginia Airport saw its number of enplanements cut more than in half for 2020.
Coming off the most flights ever at the Bridgeport facility in 2019 when 42,829 passengers flew out on local flights, COVID-19 stopped what was looking to be another record year. As the season ended, the airport had 18,583 passengers in 2020.
Yet despite that, the NCWV Airport and its governing body, the Benedum Airport Authority, was largely upbeat at Wednesday's meeting. A big reason for that stems from the airport recently announcing the addition of destination flights to Destin, Fla., and Chicago through Allegiant.
The better news? NCWV Airport Director Rick Rock believes there will be even more flights added in the future.
"We've exceeded all expectations we've set for ourselves when we first began looking for service, and we're not done," said Rock.
Rock said the groundwork for the addition of the two most recent flights came in April of 2020 when "the whole world, and particularly the flying worlds, was shut down" due to the pandemic. Rock said he wanted Allegiant to know the airport, staff and the flying community would be ready to support flights that came their way.
"We're in constant communication and during an early conversation last April when there was nothing to be optimistic about, I told them we're ready to handle expansion when they are ready to offer it," said Rock. "When they expanded, we were offered flights."
Rock said when the new flights were announced (
READ ABOUT THAT HERE
), he knew people would be asking about additional flights. And he said he has asked about those as well, and will continue to do just that.
"Our main goal for years has been the Gulf Coast of Florida," said Rock. "We want to get there, and was thinking it would be Punta Gorda, and they came back with Destin, which is another one we have had people ask about.
"A summer flight to visit Destin is great with its green waters and white beaches," Rock continued. "A lot of people enjoy that area and now we have service going there. I can't wait to use it myself."
Rock said the Chicago flight will be added to the existing daily flight through Untied Express. Rock said Allegiant wanted that flight because of the success of the local flight. He also added during Tuesday's meeting he spoke to officials with United Express who understood the situation.
"I think they're trying to grow their presence for destination flights in Chicago. They're trying to build their assets there, and they're piggybacking off the success of the success with our daily flights," said Rock.
The flights are different said Rock with the new flight's going to Chicago's Midway Airport as opposed to O'Hare International. Allegiant is primarily a "point to point" flight, which he said means it is for people who want to visit Chicago. While the United Express flight allows anyone to visit the Windy City as well, he said business travelers use it frequently for connecting flights on United's network.
"Allegiant is not a flight for connections, but if you are a savvy traveler you can find opportunities to connect on other networks," said Rock. "Their goal, though, is a destination."
The airport's goal is to add flights, and seat inventory, to the local area. He said there are going to be 26 flights to Destin and 24 to Chicago during the months the service will be offered on jet that has the ability to hold up to 187 passengers.
"I know people want flights to other locations, and I do too. I want them all," said Rock. "We pitched Nashville, Punta Gorda, and a bunch of others and we're thrilled they offered us these two flights.
"They know we're limited in population, but they also know the community is supporting these flights and we're getting passengers from a radius of 200 miles or even more," Rock continued. "I know people want the flights now, but I have to remind myself this is a marathon and to keep the marathon going you have to make the most of the new opportunities when they're here. Now, they're here."
Rock said even with the recent announcements, he has already had conversations about adding more flights. He said the community can help by emailing Allegiant and by using hashtags on social media comments so they can see what is going on locally as well.
"They pay attention and I definitely read comments and listen to feedback and put it in my memory bank," said Rock. "Oddly, the same places I see people wanting flights to over and over and usually places I want to go. Use those hashtags, email them, let them know we're a viable community that appreciates them as much as this airport appreciates our customers."
Editor's Note: Top photo (by Ben Queen Photography) shows an Allegiant flight touching down at the NCWV Airport. Bottom photo shows NCWV Airport Director Rick Rock, left, and Deputy Director Shawn Long at Wednesday's meeting.