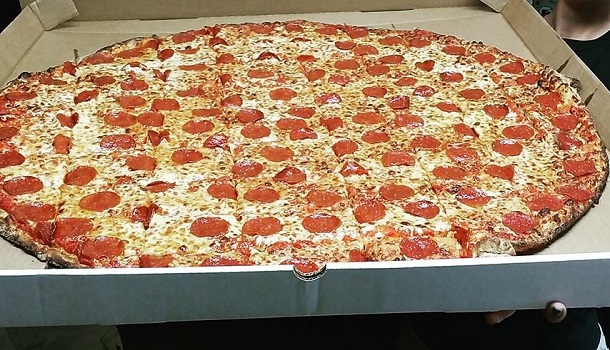 A growing pizza business that started in Pennsylvania and filtered its way into West Virginia will soon be calling the City of Bridgeport home.
Bria McKown, and her husband Chad, confirmed they will be operating the third location of Fat Angelo's, known for its pizza and other menu items, with a site on Thompson Drive with a spring opening planned. McKown said her knowledge of the area helped in the decision-making process.
"I actually own West Virginia ISR (Infant Swimming Resources) and have worked in the area," said McKown, who said classes are held on Tolley Drive at WV Fitness 24. "… We were looking at different locations and the demographic in Bridgeport and the area were appealing to Chad and I. We could see the need for it and pulled the trigger."
The decision fulfills a promise made by another area business. Last year, Mountainman Axe business owner Chris Atkins said his new building on Thompson Drive would soon have a restaurant in it. This is the restaurant.
Fat Angelo's will cover 2,000 square feet inside the building. It will serve as the sole food provider for Mountainman, she said, with a window between to get the food to those customers. As for anyone else wishing to enjoy something from the menu, that can be done as well.
"We'll do primarily delivery and pickup and we'll have a few tables inside, but it's not a full-service sit-down restaurant," she said. "We will also have a little concrete patio for someone who wants to grab a pizza or a hoagie and enjoy a nice day eating outside."
As for the menu, the pizza may be the specialty, but McKown said there are plenty of options. She said there are really good hoagies, wings, and salads. She said the restaurant is moving more towards the "build your own" variety of salads and hoagies, but there will be specialty items. She said it will be the same as other Fat Angelo locations, including the two in Monongalia County where McKown and her husband reside.
Fat Angelo's is the McKown family's first foray into the restaurant industry. She said they figured going with more of a delivery and pickup setup would be easier to handle. McKown also said there was another factor in starting the operation.
"We know the product is great. Our kids love their pizza, and they are always busy," said Bria, who is a mother of two with a third on the way. "That's when we started looking at different options and Fat Angelo's is the one that really appealed to us."
As for the opening, the spring date is tentative. While the buildout should be done in the next few weeks, she said they are waiting for the equipment to arrive. After that is done, staff will be hired and trained.
She said the hours should be 10 a.m. to 10 p.m. with pickup and delivery starting at 11 a.m. She said they plan to be open seven days a week.
To follow their progress, you can visit their Facebook page by clicking 
HERE
. McKown said there will be regular updates.
Fat Angelo's founder is from Uniontown, Pa. The Bridgeport location will be the company's 11th, and it will be one of the sole ownership franchises.