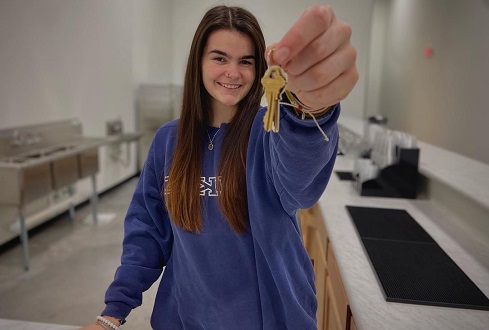 Entrepreneur Lauren Riffle has announced that her business, Jerry Dove Nutrition – featuring meal-replacement shakes, teas, protein coffees and other high-nutrition items – will open Feb. 18 In Marketplace Plaza.
"Honestly, I am overwhelmed with excitement," said Riffle, a 2019 Bridgeport High School graduate and Fairmont State senior business administration major. "As soon as I got the keys, I looked around and it all became real and that same day, I started setting everything up inside! I am super excited to meet new people and see familiar faces being back in my hometown to do something that I love and give that to others, too."
Riffle said she became a believer in Herbalife Nutrition products a couple years ago and sought out a job with a distributor in Fairmont, Southern Charm Nutrition.
"..And from there, I knew that one day I wanted to have my own," she said.
She certainly endorses the products and said they have had a major effect on her own life. When she learned of the space at Jerry Dove Drive, she decided to make it happen.
The store will be located at 8000 Jerry Dove Drive, Suite 109, just beside Shrimpy and Snappy's Seafood at Marketplace Plaza. The buildout began in November with a projected completion in early-2023. She's happy to be on schedule and happy to introduce the products to customers.
"The great thing is that we have something for pretty much everyone. Our products all hold a lot of nutritional value, and it's allowed me the opportunity to learn more about what I should and shouldn't be putting in my body and how to take better care of myself," she said. "The great thing about the products is that you can not only come and get them in the store, but you can make exactly what we make in the store at home, as well."
The products include shakes, teas, protein coffee, supplements and even personal care products like body wash, shampoo, and facial care.
Business hours will be 6:30 a.m.-7 p.m. Monday through Thursday, 6:30 a.m.-5 p.m. Friday, 8 a.m.-5 p.m. Saturday and 10 a.m.-3 p.m. Sunday.