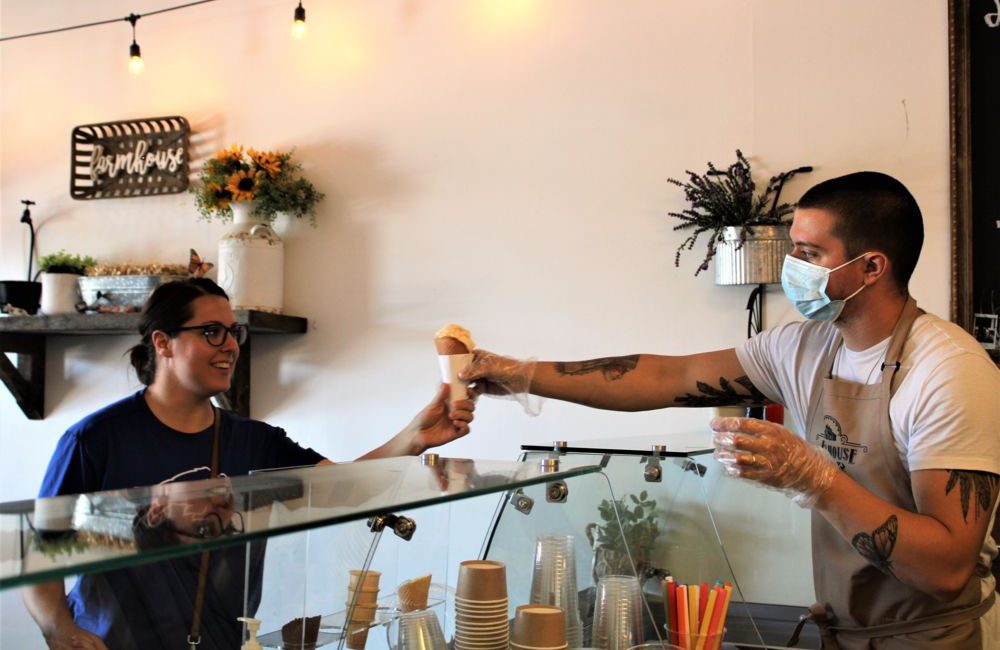 From butter pecan to black raspberry and even the coffee-based Monongalia Mud, Farm House Ice Cream is loaded with flavors. The popular new ice cream shop at Gabriel's Plaza features more than a dozen varieties with just as many topping options; rainbow sprinkles, chocolate chips and crushed Oreos, to name a few.
And it's all selling as fast as Walter and Josie Foster can dip it up.
Just a week of business under their belts, the couple is pleased with their venture; one that started a few years ago – on wheels.
"We had an ice cream truck in 2017. We called it 'So Chill' and we drove it around in the summer, but we ended up getting too good of an offer for it and have since been saving up for this place," Josie Foster said.
The Thompson Drive location seems to be a good one. Some come to the plaza specifically for the ice cream. Others meander in after shopping at nearby retailers.
The Fosters purchase their ice cream from a creamery in Mt. Lebanon. They choose their flavors and it is delivered to Farm House.
"He has over 100 flavors and he makes it all himself," Josie said.
Some of the newest flavors are Moose Tracks and Pittsburgh Pride, the latter a blend of cake batter, brownies, Oreos and chocolate.
The shop also offers vegan and gluten-free varieties.
Waffle cones are made on site, the aroma offering another element of sweet nostalgia.
On a late Thursday afternoon, several took a break from their day to sit down and enjoy a cone, sundae, milkshake or banana split. The charming, yet simple décor, encouraged the slow-down.
Farm House Ice Cream is open noon to 10 p.m. Monday through Saturday and noon to 6 p.m. Sunday. There is seating available inside and outdoors.
Josie and Walter Foster live in Quiet Dell with their two young children. Walter works as an emergency room nurse at United Hospital Center on weekends.