UPDATE: Though corn has been planted on the family farm for generations – stretching back 100 years – this is the first time for a corn maze on the property. Poth used a bioengineered corn variety recommended for corn mazes. Seed had to be planted in both directions to grow tightly and create the maze effect. He ran short on seed, but a friend happened to have extra corn silage, so he offered it. Once planted into the plowed, fertilized ground, the corn took off.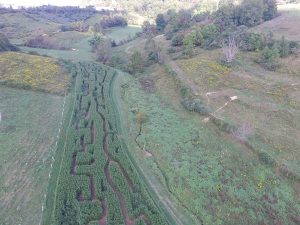 "I put a fence up and left it for a week. When I got back, it was over a foot tall," Poth said.
He had plans to draw the maze design on paper before cutting the path, but there was no time for that. He just started mowing, creating the zigs and zags throughout – and the dead ends along the way.
It's been a lot of work, but also a lot of fun, Poth said.
He is excited to unveil it to the community. The hayrides and corn maze visits will be open 10 a.m. through dark Saturday and Sunday and is available by appointment for school groups, birthday parties or other special occasions. The field at the end of the maze is available for gatherings.
There have been no pesticides used throughout the process. Once the maze closes for the season, Poth will turn out his cattle for feeding and eventually cut it all down with plans for next year's attraction.
See a time lapse video of the maze here: https://youtu.be/x8wKeJ3RY1M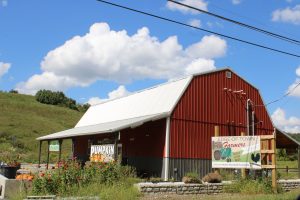 Original Story: The Edge of Town Farm Market continues to offer grass-fed beef and bison, as well as fresh-baked breads. With autumn's arrival, the farmers market on Route 58 looks forward to some new arrivals – and a brand-new attraction.
The seasonal grand opening on Sept. 26 will not only feature an array of fall décor – haybales, cornstalks, mums and more – but a two-acre corn maze.
"I get lost in it and I'm the one who made it," said Owner Jason Poth. "The stalks are 10 feet tall, so you feel like you're in a tunnel."
Preparation began in the spring.
"Simon Harvey, a local bus driver, came over and helped plow and fertilize," Poth said. "Then we planted in both directions – longways and crossways – and it grew like crazy."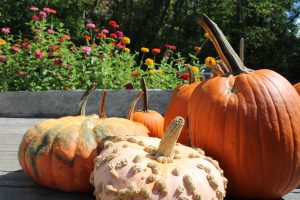 As corn maze guidelines indicate, the actual planting didn't take place until mid-June, so that stalks would still be green at maze time.  For those who may get claustrophobic, Poth has you covered. He included an emergency exit in the plans.
To get to the maze, visitors are transported by hayride.
"On the way back, we go to the pumpkin patch, so people can get out and pick pumpkins if they want," Poth said. "We have all different colors."
Besides basic orange and basic white pumpkins, he has the orange and black "bat wing," the striped "spark," miniature white "baby boo" and little orange "jack-be-little" varieties.
"We have four fiends of pumpkins – three on the farm and a field of miniatures at my house that we'll bring," Poth said.
Also available for purchase will be apples, peppers and some tomatoes. Heather Leeson's baked goods will include pumpkin rolls, pumpkin pies, and French bread, among others.
The cost for the hayride and corn maze is $5 per person. Poth, his fiancé Eva Clutter and their wedding guests will be among the first to find their way through. The couple is tying the knot there on the eve of opening day.